I was psyched to find a wide variety of cool vegan iPad cases (and tablet sleeves too!) when I did my product research. If you're in the market for a new iPad case, it's a great opportunity to buy one that's not only cruelty-free, but also made with eco-friendly materials. Once you see this selection, I'm sure you'll agree that iPad cases made from materials like leather, plastic, and vinyl should be things of the past.
Here are features to look for in an eco and vegan iPad case:
Made from natural, sustainable, and biodegradable materials, such as sustainably-harvested wood, bamboo, or cork
Made of toxic-free materials
Not made of animal skin, such as leather or suede from cows, pigs, crocodiles, snakes, or any other living creature that will suffer
Not made of traditional, virgin plastic or other virgin petroleum-based materials
Made by companies that take efforts to lessen their environmental footprint and provide safe and fair working conditions for their workers
All of the iPad cases and sleeves you'll find in this article are vegan. And for easy organization, I broke them down into different categories of eco-friendly materials.
Vegan iPad Cases by Category
To go directly to each section, you can click on these jump links:
Wood iPad Cases
Hoentjen Creatie hails from The Netherlands where they make a variety of tech accessories, watches, and sunglasses from natural wood. This wooden iPad Air case is made with African padauk wood, which naturally darkens over time. Each case is handmade and one-of-a-kind. This iPad cover comes with a fold-out folio that you can convert into a convenient stand. Hoentjen Creatie makes wood covers for iPad Air and Mini. Be sure to check out their other hand-crafted wooden designs in their Etsy store.

Creative Use of Tech makes beautiful wood and bamboo cases and covers for Apple and Samsung products. This etched wood iPad 2 case is made with black walnut. They also make wood covers for iPad Air, 3, 4, and Mini, plus wood phone cases for iPhone and Samsung Galaxy. Visit their store on Etsy to see their wide selection of hand crafted wood and bamboo tech accessories.

Toast makes wood covers for iPads as well as MacBook Pros in ebony wood, white ash, and bamboo. The covers are real wood and attach to your iPad with an adhesive backing. They're made in the USA.
Bamboo iPad Cases
Reveal is a leader in the sustainable tech accessories space. Not only do they make beautiful products out of sustainable materials, they also plant a tree for every product they sell. In partnership with the non-profit American Forests, they've planted over 50 million trees on behalf of their customers. Company founder Terry Omata spent a decade getting products manufactured in China and he knows first-hand the environmental and human consequences of creating and disposing of products that are not made sustainably.
This bamboo iPad case fits a 9.7″ iPad and comes in a dark wood-colored or blond wood-colored bamboo. Bamboo is 100% sustainable and is the fastest growing woody plant on Earth. While it's actually a grass, bamboo often gets put in the wood category because it's just as strong and durable and has the same natural look.
Maderacraft creates a range of ultra-sleek wood and bamboo tech accessories for Apple computers and mobile devices. Be sure to check out their Etsy store to see their cool bamboo monitor stands and phone cases. This blond bamboo iPad case fits iPads 2, 3, and 4. It's 100% handmade.
Designer Sophia Victory Joy will personalize an iPad case with etched text of your choosing. Just email her in here Etsy store and send here your specs!
Cork iPad Cases
Another super cool iPad case from Reveal, this cork iPad folio will make it hard to decide between it and the bamboo design above.
Cork is a sustainable material because the cork tree isn't harmed when its bark is harvested. And when cork bark is harvested, it enables the tree to absorb even more CO2 from the atmosphere. Cork forests are also home to a number of endangered species, so a demand for cork products helps to ensure these important forests are preserved.
This cork iPad case fits iPad Air 2 and 9.7″ iPads. It should be noted that it's interior lining is made with a vegan fabric created from recycled plastic bottles.
kwmobile makes a couple of styles of cork iPad cases in a blond-wood and dark-wood color. This cork iPad case comes with a fold over cover and stand. It fits iPad Air 2 and the new 9.7″ in iPads.
This cork iPad cover also comes with a built-in stand and a strap to keep it closed. It measures 9.7" x 7.5" and will fit iPads and Samsung tablets.

Recycled and Upcycled iPad Cases and Sleeves
This next set of cool, vegan iPad cases are made with a variety of different recycled and upcycled materials. But first, here's the distinction between upcycled and recycled:
What's the difference between recycling and upcycling again?
Recycling (as it relates to products) involves taking used products or the materials used in those products and breaking them down into more basic sub-materials, which can be used to create new materials and products. Most often recycling involved an industrial process. An example is plastic from plastic bottles that is melted down and then spun into fibers that can be used to create fleece material for jackets or a woven material for dog collars.
Upcycling, on the other hand, does not require an industrial process because materials used from the original products are not broken down. Rather, the materials remain in their near-original, and often recognizable, state and are simply reused to create something new. An example is used tire inner tubes that are cut down and then sewn or glued together to create wallets, iPad sleeves, or belts.
Generally, recycling requires more energy than upcycling because it utilizes an industrial process. (Though artisans who make upcycled goods from used materials that they go out and salvage may have a different opinion about "energy" output!)
Even though recycling takes energy, it's generally considered a better alternative to using virgin materials taken from our very depleted planet. The consensus by most environmentalists is that if you're not using sustainable natural materials in your products (such as cork, bamboo, hemp, or sustainably-harvested wood), it's best to at least use recycled or upcycled materials.
While the term "upcycling" is still a fairly new term in our vernacular, the concept of upcycling is as old as the hills. Think your grandmother's patchwork quilt or wine cork bulletin boards.
Upcycling is a winner for a few key reasons:
 It keeps "waste" out of our landfills and waterways.
It generally doesn't take much energy, and few if any raw materials, to create usable, high-quality products.
It sparks creativity and ingenuity that inspires us to re-think how we view "waste" and throwaway items.
iPad and Tablet Sleeves Made with Upcycled Wetsuits and Eco-Friendly Neoprene
Portland, Oregon-based LOOPTWORKS creates urban and active wear that is made entirely of upcycled materials. All of their fabrics come from leftover textile industry scraps that would have otherwise ended up in the landfill. LOOPTWORKS saves tens of million gallons of water by producing products that are not made from virgin materials.
This upcycled tablet sleeve measures 10.8″ x 1″ x 8.5″ and will fit iPads 1-5, as well as other similarly-sized tablet and notebook computers.
GreenSmart creates tablet computer cases made with its "Neogreene" material, a better alternative to traditional neoprene.
Neogreene is considered a non-toxic material because it doesn't contain unhealthy chemicals. It doesn't use things like phthalates, volatile organic compounds (short for VOCs, which are carbon-based chemicals that easily evaporate into the atmosphere), chlorine, or metals. It also requires less energy and petroleum to produce. In addition, Neogreene sleeves are constructed with water-based adhesives vs. chemical-heavy solvent-based adhesives.
And an extra bonus on this case: The interior fuzzy liner is made with 100% recycled plastic bottles.
It measures 10.4″ x 8.2″ x 0.7″.
And if you want to direct your dollars to a good cause when you purchase an eco-friendly iPad or tablet sleeve, you can get one directly from the Surfrider Foundation. 100% of the profits from the sale of this product fund the organization's mission to protect our oceans, waves, and beaches. It's made of upcycled wetsuit materials and comes in a variety of colors.
Cool iPad Cases and Tablet Sleeves Made with Upcycled Tires
Tires are 100% recyclable, and it's very important that we do recycle them. For one, we use a lot of tires, and we keep using them. In the U.S. we scrap about 300 million tires every year. Used tires take up a lot of landfill space. And if they're burned, they emit toxic chemicals into the atmosphere. Tires can be recycled into useful materials for flooring, playgrounds, and the soles of shoes.
The tablet cases I showcase here are made with upcycled tire inner tubes. I appreciate how they serve not only their primary function – to protect your computer, but they also make statement about the power of upcycling. You can guess what they used to be in their past life.
Alchemy Goods transforms bicycle inner tubes into cool, sustainably-produced bags and accessories. To date, they've kept over 500,000 bicycle inner tubes out of the landfill, or from polluting our planet elsewhere. All of their products are made in the USA in Seattle, Washington.
This super durable iPad case is water-resistant and measures 10.25" x 7.75" by 0.5".
 
Planet Rubber makes a variety of accessories from used tire inner tubes, including wallets, purses, duffle bags, and dopp kits. All of their items are handmade to order. Just contact them through their Etsy store and give them the dimensions of your iPad or tablet.
This zip-closure bag by Ecoupcycle Studio is made with used truck tire inner tubes. It has a handy wrist strap for carrying and dual zippers for easy access. It measures 9.9″ x 7.4″ x 1″ and will fit in iPad Air, Mini, or similar-sized notebook.
Recycled Plastic iPad and Tablet Sleeves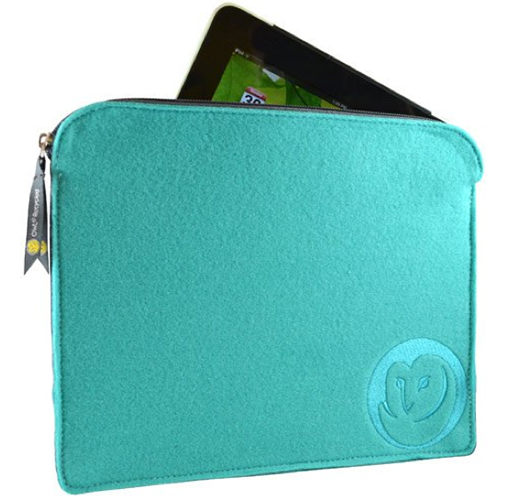 Like tires, we all know that virgin fossil fuel plastics are a scourge on our planet. OWL Recycled is doing their part to keep plastics out of the landfill and our oceans. These sleek tablet sleeves that are made with 100% recycled materials.
The felt fabric is made with 100 % recycled water bottles and other food containers and comes in a few super bright colors. It's machine-washable too! It measures 11.5" x 9.2" x 1.5" and will fit a number of iPads and tablet computers.

iPad Cases and Tablet Sleeves Made with Upcycled Materials
Kaz Style creates lovely zippered tablet cases that are one-of-a-kind and handmade.
This iPad sleeve is made with upcycled obi and kimono fabrics. Be sure to check out Kaz Style's shop on Etsy to see more designs. This sleeve measures 11" x 9.5".
Shabby She UK makes whimsical accessories, including tote bags, pencil cases, and phone cases, out of upcycled juice packs and other materials. I love this iPad sleeve made with upcycled Capri Sun juice packs because juice boxes are notoriously impossible to recycle. According the Sierra Club, Americans alone consume four billion disposable juice boxes every year. Let's keep those things out of the landfill and put them to fun use!
This sleeve measures 10″ x 6.2″ and will fit a variety of e-readers, Samsung tablets, and iPads.
The perfect blend of old and new, these upcycled book covers for your tablet are fun and protective at the same time. Visit Book Grrl Bindery's Etsy store to see more fun titles.
Are you interested in eco and vegan iPad Mini cases? Check out our post:
If you need a new phone case, check out our post:

Save