Can you be vegan and still wear cowboy boots? Heck yeah, you can! When doing my research, I was happy to find a variety of vegan cowboy boots and western boots for all you compassionate cowgirls and cowboys out there. While there are definitely more vegan cowboy boots for women than there are for men, you'll see a few styles for guys at the end of this post. (And if you're looking for other men's vegan boot styles, check out my post on cool men's boots.)
To kick things off :o), I'd like to start this vegan cowboy boots guide with a quote from one of my all-time favorite country stars, the grandfather of country rock, Gram Parsons:
"We don't wear sequins because we think we're great. We wear them because we think sequins are great."
–Gram Parsons
The History of Cowboy Boots
But first, a little lesson on the history of cowboy boots… Cowboy boots date back to the 1600s, when riding boots started to appear in Europe that had "high tops, pointed toes, and 2″ stacked heels," says ShoeInfo. But where did those 2″ heels originate? Apparently, they were first seen in the 13th century on invading Mongol tribesmen who wore bright red wooden heels on their boots. According to ShoeInfo, "Mongols were consummate horsemen and their easy victories left a mark on European society."
Since owning and caring for a horse required wealth, and being on horseback placed a person physically above those who were not, people on horseback in high heels became associated with nobility. To this day, we say "well-heeled" to describe a person who is wealthy or aristocratic. Eventually, heeled riding boots made their way to the Americas, quite possibly on the feet of the Conquistadors.
Throughout history, boots were made with animal skin. Thankfully, today we have access to a variety of materials that make durable, warm, and comfortable boots without harming animals.
So, without further ado, here are some sweet faux-leather, faux-suede, and otherwise vegan cowgirl and cowboy boots.
High Heel Cowboy Boots and Western Boots for Women
Very Volatile Cowboy Boots
Very Volatile is a brand that offers a number of western boots that are made from manmade materials, so you can bring out your inner cowgirl and still be cruelty-free. If you like cowboy boots that have the leather look but are not made of leather, you'll find them with Very Volatile.
For a slightly off beat cowgirl boot, check out this style in green faux leather with classic cowboy boot styling and a 3″ heel. And if green doesn't suit your fancy, they also come in brown. They have a rounded toe and a deep V in the front, and, they're embellished with cute little silver studs.
Another classic ladies' western boot by Vert Volatile, the Raspy comes in black, tan, brown, or red wine vegan leather. These high-heeled cowgirl boots have pull up tabs on the sides and a gold accent above the heel.
Sexy 3" high heels make these cowgirl boots just a little more fun! They're made of tan faux leather and have decorate teal green inlays. The shaft is 11″ from arch and they have rubber soles for easy walking.
Vegan Cowgirl Boots by Roper
You don't have to be a vegan or a vegetarian to love all of the styles of animal-friendly boots offered by Roper. You just have to love wearing a good pair of cowboy boots! Roper also makes some adorable girls and boys cowboy boots that are vegan, plus a few men's styles. Just a note: Roper makes leather cowboy boots too, so be sure to read the product details before you buy.
These tall, elegant cowboy boots by Roper are one of my faves. They have lovely western flowers embroidered on them and a tall 16" shaft. The heel is 2.25".

High-tech cowgirls will love these light up cowboy boots! They come with a USB charger that you connect inside the shaft of the boot, which charges them up. Charges them up for what, you might ask? So, they sparkle when you walk and dance, Girl! Look out, Dolly! There's a new Jolene in town! These light up cowboy boots come in black or brown.

If you love stars but you're looking for a little more subtlety, these Stars and Stones Boots by Roper will do you right. The shaft measures approximately 13″ from the arch, and the heel is 2.25". They also have a flexible sole and soft support insole for extra comfort. These vegan western boots come in brown or black.
For a little extra country glimmer, check out these cute sparkly cowboy boots. They're the perfect combo of rugged faux leather with a stacked 2.75" heel and a little bit of glitz underneath. The shaft measures 13″ from arch.
These cool cowgirl boots by Durango have a rugged leather look and special extra features like antiqued metal hardware and wrap-around belts. They come to mid-calf, which makes them perfect with jeans or a cowgirl skirt. They sort of remind me of Guns n Roses fan, but whether or not you're a fan of that band, if you're looking for a unique pair of faux leather cowboy boots, this pair will fit the bill.
For a slightly more biker babe style western boot, check out these slouchy, ankle strap with ring boots by Refresh. They show you can be both badass and cruelty-free at the same time. The shaft is 9.75″ and they come in black or brown.
Similar to the style by Refresh, these cool and cute synthetic leather boots by Cambridge Select can be worn with jeans, a skirt, of your favorite leggings. They have side pull tabs for easy on and off and they come in five different colors, including dark brown, light brown, taupe, bone, and black. The stacked heel is 2.5" and the shaft is 9.75".

If you need some extra pizzazz for your next party and faux leather cowboy boots just aren't enough, check out these colorful and fun bling boots by Helen's Heart. They come in purple, red, fuchsia, turquoise, pink, gold, silver, black, brown, and sparkle gray. They're made of rubber, for all of you vegan cowgirls who live in rainy locales and like to brighten up everyone's day when you walk by. The shaft measures 13" from the arch and the heel is 3.25". They have a side zipper for easy on and off.
Low Heel Cowboy Boots for Women
Here's a classic pair of western boots that are made with animal-friendly, faux leather. They have round toe and the shaft is 12" from the arch. They have a low 2" heel and rubber soles for easy walking and dancing.
Another classic cowboy boot with traditional top stitching, the Riley Boot by Roper is made with 100% manmade materials. This style comes in brown, red wine, and tan. The shaft measures 13″ from the arch, and the insole is padded for extra comfort.
This cute, brown low western boot lets you show off a little more leg. The shaft measures just 9" from the arch and the heel is 1.25".

Sparkly crosses and decorate inlays make these low heeled vegan cowboy boots real attention getters. They come in black or brown. The shaft is 11.5″ from the arch and the heel is 1.5". They have a padded, flexible insole and a non-marketing outsole.
Just in time for your 4th of July parties, these brown faux leather cowboy boots have a square toe and decorative American flags around the ankles. The shaft comes to mid-calf.
Women's Ankle Boot Cowboy Boots
These super cute cowboy boots by Very Volatile have a 12" shaft, perfect for showing off a little more leg under your cowgirl skirt of with your skinny jeans. The heel is 2" and they have pull up straps for easy on and off. They come in tan stone.

For a truly unique look, check out these adorable cowgirl ankle booties in velvet and faux leather. They come in black, blue, or red wine. They're 100% synthetic and the shaft measures 12" from the arch. The heels are 2".
Breckelle's offers a wide variety of vegan boots, from vegan combat boots to faux leather ankle boots, and more. These faux suede western-style ankle boots come in a wide different colors, from mustard to red to black, tan, and more. Their versatile style with go with countless looks in your wardrobe. The shaft 8" from the arch and the high heel is 3.5".
These faux suede booties received rave reviews on Amazon and they've been super popular on UnGuide. They're the perfect blend of modern, urban style and subtle western flair, and they come in a variety of colors, including pale pink, rose, black, red, and olive. The shaft is 8" from the arch and the heel measures 3".

For a comfy vegan ankle boot, you can't go wrong with these faux suede ankle boots by Carlos Santana. They have two size zips and the shaft hits just above your ankle. The heel is 1". These comfortable vegan booties come in black, tan, or brown.
Inlayed silver studs give these adorable cowgirl ankle boots extra flair. The shaft is 6.5" and the low heel is 1.5". They upper is a forest green textile and they're made with 100% synthetic materials.
Another adorable western-style ankle boot, this pair is made with animal-friendly white textile fabric and pretty embroidered pink flowers. They have a deep notch on each side for easy on and off that's embellished with a bit of fringe. The shaft is just 4.25" and the stacked heel is 2".
Men's Cowboy Boots and Western Boots
These non-leather men's ankle boots have a cool western look with chained ankle straps and that are reminiscent of cowboy boot spurs. They have a side zip and come in brown or black faux leather.

These faux leather men's cowboy boots by Roper come in a few different color combinations. They have a flexible rubber sole. The shaft is 11" from the arch and the heel is 1.5".
Alberto Fellini has been making cool synthetic shoes and boots for men for decades. These men's vegan western style ankle boots have a size zipper for easy on and off. They have classic western style stitching and a cool ankle straps and rings. They come in black and brown.
Here's another cool men's ankle cowboy boot. This style comes in distressed black, gray, or burgundy faux leather.
See more vegan boots on UniGuide:
I've been planning to write a post about vegan handbags and purses for a while now because it's such a fun topic. And truthfully, I got lost a little while doing my research because I found so many great bags. I discovered new, innovative designers who are working with high-quality vegan leather. Plus, new styles from well-established designers, like Stella McCartney and MATT and NAT, who continue to create gorgeous luxury handbags that are always cruelty-free.
I also discovered new materials (to me anyway) that I had not seen used before in handbags, like bamboo. I know, I know, purses have probably been made with bamboo for eons, but I can't remember ever laying my eyes on one! Other natural materials used to make vegan handbags include hemp, raffia, and even palm leaves.
Plus, there are great affordable vegan bags made with faux leather and faux suede that are surely disrupting the leather handbag market. And of course, no UniGuide post would be complete without some recycled and upcycled options. Yes, Ladies, vegan handbags made from cement bags, tire inner tubes, and boat sails are leaving bags made with animal skin in the Dark Ages where they belong!
Vegan Handbags and Purses in this post:
Faux Leather Handbags and Purses
| | |
| --- | --- |
| | Eco-Friendly Brand |
LaBante London is a socially conscious handbag brand that donates 10% of their profits to charitable causes. LaBante's founder, Vanita Badlani Bagri, experienced a pivotal moment in her life when she was in college. She passed a butcher's shop where animals were kept alive in cages before they would be killed in front of customers and sold for their meat.
Bearing witness to this horror was transformative for Vanita. While she didn't know at the time that she would eventually become a vegan handbag designer, this experience shaped her world view and the values that she infuses in all of LaBante's products and operations today.
And not only are LaBante bags vegan, they're also eco-friendly. The materials used have the look and feel of leather, but they're actually made with recycled plastic bottles.
| | |
| --- | --- |
| | Eco-Friendly Brand |
Melie Bianco is another PETA Approved, 100% vegan brand. And they produce their socially conscious handbags in ethical, fair trade conditions.
The vegan leather that Melie Bianco uses in their bags is made with polyurethane (PU). PU use fewer solvents and toxic chemicals than PVC (polyvinyl chloride), a type of plastic that's used to make a cheaper faux leather. In addition, PU uses fewer resources to produce than does leather derived from animals.
In this video, Melie Bianco explains the difference between PU vegan leather and faux leather made from PVC:
Good Mood Moon also makes 100% vegan clutches, purses, and other cute bags. Self-described lovers of animals, nature, and color, they donate 5% of sales from their subtly colorful bags to homeless pet organizations.
| | |
| --- | --- |
| | Eco-Friendly Brand |
MATT & NAT's name is derived from the words "materials" and "nature." And these concepts are interwoven in every product they create, from their designer handbags and purses to fashionable shoes and other accessories. Their mission it to help unveil the "humanity, creativity and positivity found in all of us."
MATT & NAT's chic designs have been 100% vegan since the company was founded in 1995. They also infuse eco-friendly principles into their designs by using natural, plantbased, and recycled materials. You can see their stylish shoes in my post on vegan shoe brands.
Angela Roi's love for animals and their passion for fashion inspired them to create their ultra chic, 100% cruelty-free handbags. They believe there's no reason for fashion to be cruel, and they take these values a step further by supporting animal welfare organizations.
| | |
| --- | --- |
| | Eco-Friendly Brand |
Stella McCartney is a true trailblazer in the fashion world. She was a big name advocating for cruelty-free and eco-friendly fashion back when most big names were still in the Dark Ages, creating designs with animal skin and fur. Stella was an advocate for cruelty-free fashion well before Gucci, Versace, and just recently Chanel went fur-free. (But thank God, other top designers are seeing the light and helping to end animal cruelty in the fashion industry.) Stella is a designer who wears her values and her heart on her sleeves and the world is better for it.
| | |
| --- | --- |
| | Eco-Friendly Brand |
Canopy Verde's founder, Linda Wong, admits she's a minimalist who doesn't like the idea of "owning a lot stuff." It might seem an odd statement coming from a product designer, but then again, Linda represents the values of other modern-day, progressive product designers who believe in quality over quantity and in minimizing waste.
Linda was inspired to create her own line of eco-friendly and vegan handbags after working in the fashion industry and seeing how much waste is generated season after season. She felt she could do better. And it was her love of mid-century Danish design and the character of her Brooklyn neighborhood that shaped her design aesthetic.
Canopy Verde produces their vegan handbags using methods that minimize waste and reuse materials whenever possible. In addition, they utilize PU vegan leather, which has a lighter carbon footprint than leather derived from animals. The linings of Canopy Verde bags are also eco-friendly: They're made with GOTS certified organic cotton, which is dyed with Earth-friendly, chemical-free dyes.
Price: ~$59.00 – $169.00
| | |
| --- | --- |
| | Eco-Friendly Brand |
Pixie Mood says their top priority is creating beautiful handbags and purses that do not harm any of our furry friends. Their motto is: "There's always room for fashion with compassion!"
In addition, the Pixie Mood team is committed to environmental sustainability and social causes. They focus on sourcing the most innovative and eco-friendly materials they can find, and they support charitable organizations like PETA and Progress Place Mental Wellness.
| | |
| --- | --- |
| | Eco-Friendly |
Maravillas hand makes their sustainable, vegan handbags in their workshop in Palma de Mallorca, Spain. They do create some styles in traditional leather, so be sure to look for the designs that are made with 100% vegan and sustainable Piñatex Pineapple Leather. Maravillas' founder, Christina Bussmann, is an advocate for timeless designs and she's an activist against fast-fashion and its exploitation of people and nature.
| | |
| --- | --- |
| | Eco-Friendly Brand |
Camille Vegan Bags are created in the epicenter of the fashion world in Paris, France. Founders Raphaël and Camille Vial love to promote slow fashion, with a focus on quality and timeless design while still being affordable.
Faux Suede Handbags and Purses
Red Maus designs minimalist and functional shoulder bags, backpacks, and other vegan bags with distressed faux vegan leather that reminds me of classic suede. Visit their Etsy store to see their collection.
If you love the rugged look of suede but not the idea of harming animals, this faux suede laser-cut bag may me just what you're looking for. It even has a little bit of fringe to give it a cool '70s retro look.
Available colors: olive green and vintage black
And if y0u want ever more fringe, check out this faux suede shoulder bag. It epitomizes cruelty-free, boho chic style.
Available colors: purple, brown, dark brown, gray, and black
Straw Handbags and Purses
Straw handbags make great vegan and eco-friendly purses, though it can be hard to find styles that don't have leather straps. I've sent plenty of messages to straw handbag designers urging them to use faux leather in their bags! Fortunately, there are some handbag designers who are making fun, animal-friendly straw bags.
| | |
| --- | --- |
| | Eco-Friendly |
This cute vegan handbag is made with 100% natural and eco-friendly straw, and it has a cotton lining. It's perfect for a summer purse or a beach tote. This bag makes me want to go on vacation to Greece, the Caribbean, or somewhere equally as sunny and carefree.
| | |
| --- | --- |
| | Eco-Friendly |
Speaking of Greece, this natural raffia shoulder bag was handmade there. Artisans in Greece use a crochet weave to create this vegan, natural fiber shoulder bag.
Available colors: tan and black
| | |
| --- | --- |
| | Eco-Friendly |
Everyone should own a classic, woven beach tote. This vegan tote bag is handmade with woven water hyacinth, a lovely eco-friendly material. It comes in two sizes.
| | |
| --- | --- |
| | Eco-Friendly |
There are also some great straw bags in mini sizes. These cute shoulder bags are handmade in Bangkok, Thailand. Visit Chanya's Etsy store to see more of their straw bags and other accessories.
| | |
| --- | --- |
| | Eco-Friendly |
Described as a "bucket bag," this colorful round tote can be use as purse or a picnic basket. It's handwoven with natural seagrass and has a wooden button and seagrass loop closure.
Combining white PU faux leather and woven straw, this cute purse will look great with a dress, jeans, or whatever else you pair it with. It has an adjustable crossbody strap and a short handle. Plus, it has a magnetic closure and an inside zipper pocket to keep your valuables secure.
If a straw clutch is what you're after, be sure to check out all of the styles on Amazon.
Bamboo Handbags
| | |
| --- | --- |
| | Eco-Friendly |
For a truly unique look, take a look at this circular bamboo handbag. Bamboo is a super versatile material and, as the fastest growing grass on the planet, it's a superstar sustainable material. So, this purse is a winning combination of Earth-friendly and animal-friendly.
| | |
| --- | --- |
| | Eco-Friendly |
Another exceptionally cute and unique purse, this bag is handwoven in Bali with bamboo and rattan. Visit Gonics Bali's Etsy store to see more bags, which are handmade with natural materials.
Cork Handbags
Like bamboo, cork is a superstar sustainable material. Cork forests are home to many species of plants and animals that don't exist anywhere else in the world, and some of which are endangered. When cork bark is harvested, it doesn't hurt the tree. Plus, harvesting cork bark enables the tree to absorb more CO2 from the atmosphere. So, purchasing cork products provides a financial incentive to keep cork forests alive, which helps the natural ecosystems they support.
| | |
| --- | --- |
| | Eco-Friendly Brand |
Moana Cork is a 100% vegan brand created by two sisters in Ljubljana, Slovenia. They design eco-friendly, vegan handbags with sustainable cork. Cork leather is crack-resistant, scratch-resistant, and stain-resistant. Plus, it's smooth to the touch.
Available colors: turquoise, green, wine, and yellow
| | |
| --- | --- |
| | Eco-Friendly Brand |
Corkor is another eco-conscious and vegan brand that creates stylish handbags and purses from natural cork. The Corkor team are big advocates for animals and protecting the environment, and they're doing their part to help the fashion world become a more socially conscious industry.
Available colors: black, navy blue, brown, reddish-brown, and natural
| | |
| --- | --- |
| | Eco-Friendly Brand |
The Eco Owl makes a variety of vegan handbags and other accessories from eco-friendly cork. Visit their Etsy store to see their collection of cork clutches, shoulder bags, and other purses, as well as their cork watches, wallets, and more.
Upstyle is a truly unique handbag company based in San Diego, California. They let you customize your own clutch bag with their DIY clutch kits. You can choose from a variety of hardware finishes and styles, including gold and silver finish. And you can select your own textile from their collection of cork leathers and upcycled fabrics or use your own.
Hemp, Palm Leaf, and Other Natural Fiber Handbags
| | |
| --- | --- |
| | Eco-Friendly Brand |
Woven with traditional techniques from Mexico, this unique handbag is made with sustainable and renewable palm leaves. It's handmade by artisans in Southern Mexico under fair trade working conditions.
Tierr Amor creates a variety of natural and sustainable vegan products in Mexico.
Available colors: turquoise, hot pink, and natural
| | |
| --- | --- |
| | Eco-Friendly Brand |
This vegan shoulder bag is made with 100% natural Himalayan hemp. It has an adjustable, detachable shoulder strap for wearing over your shoulder. Or, it can be worn attached to your belt through webbing loop. Hemp is another superstar sustainable material because it grows easily without pesticides, yet it's durable enough to withstand your many travel adventures!
| | |
| --- | --- |
| | Eco-Friendly Brand |
You've got to love Dime Bag's name, which references buying a $10 bag of pot! But whether you choose to inhale or not, hemp accessories are for everyone because they're gentle on the planet and animals.
Available colors: black, brown, hot pink, white, lavender, and natural
Sakroots creates colorful vegan bags with uncoated canvas and polyester fabric. They have a variety of colors, patterns, and styles to choose from.
These colorful, boho chic bags are made with 100% cotton that is hand-loomed and they're accented with delicate handiwork, including tassels and embroidery.
| | |
| --- | --- |
| | Eco-Friendly Brand |
Woven with cotton and natural, eco-friendly jute, these casual shoulder bags are fun, functional, and boho chic. A socially-conscious company, Hey Jute donates a portion of their sales to human rights organizations that put a special emphasis on protecting children.
Recycled Vegan Handbags and Purses
Before I started UniGuide, I worked for years as a marketing consultant in the online automotive industry. The auto industry can be rather formal, and I'd often have to wear suits to business meetings. At that time, it was actually hard to find designer vegan handbags. Then, I discovered a Harvey's seat belt bag.
As silly as it might seem, this purse, made with upcycled seat belts, somehow made me feel balanced working in the car industry. There I was, a vegetarian tree hugger (these were the years before I became a full-fledged vegan) working in the car industry. And while to anyone else my purse looked like another well-designed handbag, to me, it straddled the two worlds I was living in. And now, this handbag represents a world I left behind, and the world I live in now.
I reached out to Harvey's to find out where they source all of their seat belt materials these days because I can't imagine some of the colors I see are from actual reclaimed car seat belts. They haven't replied yet, but at least these bags are not made with leather!
One tip I wanted to mention: these bags have great re-sale value! I sold two of my Harvey's on eBay. (I'm embarrassed to admit that at one point, I had three Harvey's, so I needed to downsize!) I listed the two bags on eBay for what I thought was too high a price and both sold within a couple of hours. So, if you want to hop on over to eBay and check out their pre-owned Harvey's, I won't be offended. I'm all for buying used goods.
| | |
| --- | --- |
| | Eco-Friendly Brand |
One of my favorite upcycling product designers, Upcycling by Milo creates unique and colorful accessories from an array of reclaimed materials, such as vinyl records, billboards, and candy wrappers. You can see more of their one-of-a-kind designs in my posts on eco-friendly laptop cases and iPad mini covers.
Price: ~$25.00 – $100.00
| | |
| --- | --- |
| | Eco-Friendly Brand |
Sea Bags creates sweet, one-of-a-kind bags from sail cloth. Every bag is handmade in their workshop in Portland, Maine.
| | |
| --- | --- |
| | Eco-Friendly Brand |
These unique bags are handmade from upcycled cement bags in Chiang Mai, Thailand. And they're lined with used inner tube tires, making them extra durable and water-resistant.
| | |
| --- | --- |
| | Eco-Friendly Brand |
Fair Trade Handicrafts is a socially conscious company that imports their bags from Cambodia. Proceeds from these bags help support local communities, where workers create the bags in fair trade conditions. The company describes their mission as helping people to create a vision for an abundant life "where the physical, emotional, social, and spiritual needs of workers are being met." The Fair Trade Handicrafts team believes all workers should have the opportunity to discover their true abilities, full potential, and self-worth.
| | |
| --- | --- |
| | Eco-Friendly Brand |
These eco-friendly burlap bags are made from upcycled imported Fair Trade certified coffee bags. And they're lined with upcycled fabric that's donated from local upholstery and furniture shops in North Carolina.
| | |
| --- | --- |
| | Eco-Friendly Brand |
Haiku creates colorful, casual purses and other bags that are made from 100% recycled plastic bottles. Every Haiku bag keeps at least five plastic bottles out of the landfill or from polluting our oceans.
Price: ~$13.31 – $50.14
| | |
| --- | --- |
| | Eco-Friendly Brand |
Alchemy Goods turns upcycled bicycle inner tubes into cool bags and accessories. To date, they've kept over 500,000 bicycle inner tubes out of the landfill. All of their products are produced in their workshop in Seattle, Washington.
| | |
| --- | --- |
| | Eco-Friendly Brand |
This special bag is made with upcycled truck tire inner tubes by artisans in rural Thailand. Even the tassels are made from inner tubes! Visit Tube Bags Thailand's Etsy store to see more of their recycled tire accessories.
| | |
| --- | --- |
| | Eco-Friendly Brand |
AfriEco Designs creates colorful, one-of-a-kind vegan bags from recycled, upcycled, and natural materials. The bags are made in different countries throughout Africa. The company's founders, who are based in Germany, are focused on supporting craftspeople and manufacturing jobs in Africa under fair trade conditions.
| | |
| --- | --- |
| | Eco-Friendly Brand |
Vaho Up reuses discarded advertising banners and signs and turns them into these unique handbags and other cool, upcycled accessories. Meant to be eye catching in their original form, vinyl banners also make cool, attention-getting vegan bags.
To see more great vegan and recycled accessories, check out:
How do you make disc golf a better sport? One way is to play with cool frisbee golf discs that are made with recycled plastic. Whether you just want to mess around playing frisbee on the beach or you're in for a serious game of ultimate, it's hard to avoid plastic when it comes to this sport. But the good news is – there are now plenty of cool discs made from recycled plastic.
The History of Frisbees and Disc Golf
The origins of this fun sport are up for debate. Some say it started in Ancient Greece when competitors threw the discus in the Olympic Games. While others believe it originated long before then. You can imagine that primordial man and woman were the original ultimate frisbee players when they were throwing stones, hopefully not at each other.
One take on the invention of the modern day frisbee credits an inventor and entrepreneur named Walter Frederick "Fred" Morrison. Fred said the idea came to him in 1937 when he and his girlfriend Lu were tossing a popcorn tin lid back and forth. When the popcorn lid got dented, they turned to pie tins, which they threw back and forth at the beach in Santa Monica. Some beachgoers saw the fun they were having and offered to buy the pie tin from them. This was entrepreneurial Fred's light bulb moment.
Fred called his invention a Whirlo-Way, and in 1948, an investor named Warren Franscioni paid to mold the design into plastic. Fred and Warren parted ways when sales lagged, but Fred never gave up on his idea. And in 1957, he and Lu, whom he had married, sold the rights to the idea Wham-O toy company, which is still making discs today, some of which you'll see in this post. (Wikipedia)
The Origins of the Name Frisbee
The beach in Santa Monica wasn't the only place people were tossing pie tins. After the Civil War, William Russell Frisbie opened a bakery in New Haven, Connecticut called the Frisbie Pie Company. One of the company's customers was Yale University. Students would eat the pies and then throw the tins around, which had the name Frisbie on them. Thus, they naturally started referring to the game as frisbee. It's believed that the founders of Whamo-O heard the name of the game, and so in 1957 they released their discs with the name Whamo-O Frisbee. (Made How)
Things got a little more serious and competitive when Kevin Donnelly began playing a form of frisbee 1959, which he called Street Frisbee Golf. And by 1961, when he was a recreation supervisor for the city of Newport Beach, California, he was organizing Frisbee golf tournaments. Then, in 1965 Wham-O sponsored a city-wide tournament in Newport Beach. (DDGA)
Now, on to the eco-friendly discs!
I thought it would be appropriate to start with a Wham-O disk. This one was designed with the help and inspiration of New Belgium Brewing Co., a microbrewery based in Fort Collins, Colorado. Featuring New Belgium's logo, this disc is made with 60% recycled materials. The colored flecks are the results of the recycled materials used in the disc.
What customers say:
A customer on Amazon said her husband uses this disk to play ultimate frisbee with his Navy buddies and said it works great.
Another said that this disc is tough but slightly softer than traditional plastic frisbees, so it's easier on the hands when catching and throwing.
This frisbee has a great flight range and it can easily keep up with harder plastic discs. The softer construction means that it's easier on your hands. It can also withstand colder temperatures without the risk of cracking or warping. The materials used in the frisbee are ultraviolet-sensitive, so the color changes from opaque to purple, red, orange, or yellow when exposed to UV light.
Made entirely from recycled milk containers, this disc by Green Toys is BPA- and phthalate-free, making it safe for kids, grown-ups, and frisbee-chewing dogs. And when you're done with it, you can just toss it into the recycling bin.
What customers say:
One customer said this disc is more hardwearing than the virgin plastic styles they've played with in the past, and it stood up to many outdoor sessions with their active dog.
Another appreciated that there is no paint on the disc – the logo is embossed into the disc itself, taking the eco aspects up another notch.
About the brand:
Green Toys is based in Sausalito, California, where they design and produce safe, eco-friendly toys that are made 100% from recycled plastic. To date, the company has re-used over 50 million milk jugs, keeping them out of the landfill and ocean. Their manta is "Every day is Earth day." Check out their Amazon store to see more of their eco-friendly toys.
Price: ~$5.49 as an add-on item
The Saint frisbee from Latitude 64 is perfect for both casual outdoor games or serious games of ultimate. This disc can travel up to 350 feet with pinpoint accuracy. It's made with a flexible, recycled plastic that makes it easy to catch and comfortable to throw.
About the brand:
Latitude 64 is a Swedish company that specialized in all things golf disc-related. Their discs are used by both casual players and pros.
Latitude 64 describes this frisbee as "the most versatile we have ever made." It's built for precision, and it can curve beautifully during flight for distances of up to 300 feet. It's also made with recycled plastic. This disk can be used for laid back recreation or professional golf disc tournaments.
Another popular disc from Latitude 64, the Recycled Gold Line Pear Light disc is favored by serious players as their go-to mid-range disc.
This disc is made entirely of recycled materials, and incorporates recycled rubber into the composition. The rubber provides extra grip, which gives you added control when throwing it. This disc can be used for casual play or as a putter in more serious games of disc golf.
What customers say:
One customer said this disc is a fantastic putter that has laser-sharp accuracy. They managed some putts from up to 40 feet away.
Another said it takes a little getting used to, but then once you get the hang of it, it's super smooth to throw and well worth the learning curve.
About the brand:
Gateway Disc Sports was started by an avid disc golf player. Today, the company produces over 40 styles of discs that are designed for competitive disk golf. Gateway uses recycled and recyclable materials whenever possible to lessen their environmental impact.
If you're looking for a great gift idea, consider a customized frisbee disc. This retro-style frisbee can be printed with any name or phrase you like. It's made from recycled plastic, and the customized design is printed on the surface using scratch-resistant ink, so it won't rub off.
About the brand:
Oakdene Designs is a small company based in Surrey, England. Made up of a group of experimental product designers, the company manufactures all the products themselves in their converted barn. Whenever possible, they use locally-sourced materials.
Another cute disc from Oakdene that makes a great gift, this disc can be customized with your dog's name. Choose from a selection of 44 dogs breeds to make it even more personalized.
If you're thinking about getting into ultimate frisbee, but you're not sure where to start,
this three-pack disc set comes with everything you need to get started, including a driver, midrange, and a putter. All you need is to grab some pals and play.
These frisbees are made with 100% recycled materials, and they're lightweight. So, you can throw them far without exerting a ton of much force, and you get greater control and accuracy with each throw.
What customer say:
Customers say these discs are ideal for frisbee and golf disc beginners.
One customer bought the set for his grandson and said the included instructions come in handy for newbies who are just getting into the sport.
About the brand:
Quest Applied Technologies (Quest AT) is based in Antioch, Illinois, where they create a range of products made from recycled plastics.
And if you're sure you're going to love this sport, or you already do, you can't go wrong this 25-piece set. It includes putters, midranges, and drivers. All of these discs are made in the U.S.A. from recycled materials.
Another cool recycled frisbee, this disc works best as a driver. With a speed rating of 8, it's designed to fly straight for long distances. This disc is made with strong but flexible BioFuzion plastic, which is made from the by-products of other plastics. It's easy enough to handle for beginners but has the distance and balance capabilities required for intense competition.
About the brand:
As their name implies, Dynamic Discs specializes in creating a range of high-quality frisbee discs. Their founder Dave Sparks turned his college hobby into a thriving business that brings disc golf to the masses.
Eco-friendly products company Bureo makes this super cool disc from recycled fishing nets. The unique artwork engraved on the disc is by Brooklyn-based artist Lake Buckley.
About the brand:
Bureo collect discarded fishing nets from around the coasts of Chile, and turns the waste into fun, useful products. I've written about their recycled sunglasses and recycled skateboards on UniGuide.
Frisbee and the Grateful Dead go hand-in-hand almost as much as, well, hacky sack and the Grateful Dead. So, if you're a Dead Head or you know a Dead Head, this Shakedown Street disc should be hard to pass up. It's made with 40% recycled plastic.
The creator Funn and Frolic makes a few other mandala-inspired designs.
And if you want to avoid plastic altogether, there is this mini wooden disc. You can get it custom engraved too, which makes it a sweet gift. Choose from maple, walnut, or oak wood.
About the brand:
Hendricks Design USA creates handmade furniture, home décor, and other items from natural wood. Be sure to visit their Etsy store to see more of their designs.
Now, off the screen! Grab your pals and get outside for a fun game of ultimate!
Non-product photos in this post are from Wikimedia Commons.
Vegan gifts are for everyone! Vegan Christmas gifts, Hanukkah gifts, Kwanzaa gifts, and gifts for other special occasions need not be complicated. After all, vegans are just like ordinary folks who appreciate a token of affection from someone they love. All they ask is that no animals be harmed in the making of the gift.
While some non-vegan gifts are obvious – for example, you know you shouldn't order them any Omaha Steaks, there are a few things that non-vegans might be surprised by. For one, don't buy a vegan wool socks or even a wool Christmas sweater, as the wool industry is not kind to sheep. And a few other things that are not vegan include silk, honey, or anything with gelatin – including candy and traditional marshmallows.
But gift buying for vegans is easier than you might think! So, whether your loved ones are vegan, vegetarian, plantbased-curious, or all-out omnivores, here are some vegan gift ideas that are sure to bring a smile to their faces and many blessings from the animal kingdom.
Vegan Gift Ideas in this Post:
Vegan Gift Baskets and Gift Box Ideas
Most vegans love to eat, and sadly, some go hungry at holiday events that lack vegan-friendly food. So, vegan gift baskets and boxes with plantbased treats are always appreciated. And of course, vegan gift baskets with cruelty-free beauty and personal care items will be appreciated too. Here are some vegan gift basket and gift box ideas.
This deluxe Namaste Skin Care vegan spa gift set includes grape fruit and lavender essential oil-infused body lotion, shower gel, and bath salts, plua a loofah bath sponge, a sisal sponge, a pumice stone, and a hair brush. Everything included is cruelty-free.

Another luxurious vegan gift basket, this set is perfect for anyone who loves the tropics. All of the products included are eco-friendly and vegan and they're gentle on sensitive skin. The wicker gift basket includes a variety of tropical-smelling vegan skincare items, including soap, bath salts, shampoo and conditioner, a small bath towel, and more. And there are no parabens, alcohol, or harmful chemicals in any of the products.
These fragrant vegan bath salts are certified USDA organic and they're made in the USA. You'll treat your vegan loved one with healing, anti-inflammatory ingredients, including dead sea salt, kaolin clay, Epsom salts, shea butter, and vitamin E. Each bath bomb is scented with a unique fragrance from natural essential oils. No artificial colors or fragrances are used.
Hungry vegans will love this vegan snacks gift box from Bunny James. It includes 20 different sweet and savory vegan snacks. Family, friends, students, loved ones in the military, and others will love munching on these grab-and-go vegan treats.
If you have a vegan loved one who's also gluten-free, you can't go wrong with the Good Grocer's gluten-free vegan gift box. This box has 28 different healthy gluten-free and vegan snacks.
If you prefer to make homemade vegan treats, or just like the idea of selecting the goodies you put in your vegan gift basket yourself, there are variety of wicker and other natural fiber baskets you can find on Amazon, then fill them up with goodies from your local health food store.
I swear by these detoxifying Epsoak Epsom salts, and I'll bet any active vegans in your life will love them too. They make a great addition to a DIY vegan gift basket.
If you don't like the idea of a putting a bunch of individually-wrapped items in your gift basket that are in plastic wrappers, you can put your DIY vegan treats in eco-friendly, compostable bags.
If you're putting together your own vegan gift basket, this eco-friendly twine made from natural jute, along with compostable labels can come in handy and give your basket a natural aesthetic.
Eco-Friendly Gift Wrap
For many vegans, their love for animals extends to a love of nature. So, they'll appreciate any gift you give in eco-friendly gift wrap.
Wrappily prints its colorful, eco-friendly gift wrap on recycled newsprint that you can recycle again. See their collection of holiday, birthday, and other recycled gift wrap designs in their Amazon store.
You can also find a variety of recycled and eco-friendly gift wrap on Etsy. The design pictured here is by Kitty Jane Designs. Kitty Jane prints original illustrations on 100% recycled paper.
Vegan Stocking Stuffers
Many vegans have a sense of pride about their plantbased lifestyle and they love spreading the message of compassion, health, and eco-friendly living. If your vegan pal isn't ready for a tattoo, a vegan pin can be the next best thing. They'll love finding a cute pint in their Christmas stocking or as an individual gift.
Heritage creates illustrated playing cards with animals and nature motifs that your vegan friends and family members will adore. Decks include dogs, cats, wild animals, mushrooms, butterflies, wild flowers, and more.
Another token of affection your vegan will appreciate is vegan hand cream or body lotion. Visit UniGuide's hand cream and body lotion guide to see more. Everything in the collection is cruelty-free and many are organic and biodegradable.
It's not commonly known outside of vegan circles that traditional marshmallows contain gelatin, which comes from collagen derived from animals' skin and bones. Give your vegan loved one these 100% vegan marshmallows by Dandies and they won't have to miss out on s'mores and vegan cocoa.
Loaded with antioxidants, acai is a superfood that will fill your vegan pals with delight when they find it overpowering all of the candy in their stockings. Guaranteed they'll want to jump up and make a smoothie or an acai bowl once they see it!
Loaded with selenium and other nutrients, Brazil nuts are definitely a staple in many vegan diets – and organic, raw nuts are the healthiest kind. Terrasoul Superfoods' raw Brazil nuts are certified organic, non-GMO, Kosher, raw, gluten-free, and vegan. They're also ethically-sourced!
Another stocking stuffer that your vegan health nut will love, these raw cashews are organic and non-GMO. They're also great to use in vegan recipes.
Gin Gins are all natural, gluten-free vegan candies that are made with fresh ginger. Not only are they tasty, they're good for your digestion and circulation.
These vitamins are so good, they might as well replace candy as stocking stuffers. They're the perfect vegan gift, as vitamins D and B12 are often low in vegan diets. I love these things and I never forget to take them because they taste so good.
This uber-healthy trail mix has organic goji berries, organic golden berries, organic white mulberries, Brazil nuts, cashews, California walnuts, premium California Thompson Select raisins, pumpkin seeds, and sunflower seeds. Everything is non-GMO, and the fruit is naturally sun-dried, unsweetened, and not treated with oil. Plus, no sulfur dioxide or other preservatives are used. And, there's no added sugar, salt, or fat.
These rich chocolate bars are made with 72% dark chocolate that's accented with flavorful flakes of natural salt and crunchy almond bits. They're verified non-GMO, vegan, gluten-free, and Fair Trade certified. Plus, proceeds from your purchase support global species conservation efforts.
Vegan Gifts for Her
If you need some gift ideas for your vegan girlfriend or vegan gal pals, look no further!
Aromatherapy diffusers are loved by vegan guys too, so this gift could be in that section as well. This diffuser adds moisture vapor to the air, which is great for your skin and sinuses. And you can add essential oils (see below) to bring wonderful, healing aromas to any room. Plus, this diffuser has changing LED lights that bring a relaxing ambiance to any space.
Add some healing aromatherapy to the air with these USDA certified organic essential oils. This gift box includes six (10 ml each) pure essential oils, including eucalyptus, lavender, sweet orange, peppermint, lemon, and tea tree. They are 100% certified pure therapeutic-grade essential oils, with no fillers, additives, bases, or carriers added.
The name MATT & NAT comes from "materials" and "nature," which makes total sense when you understand the values of this socially-conscious luxury accessories brand. Founded in Montreal in 1995, MATT & NAT set out to enhance the "humanity, creativity and positivity found in all of us." Your vegan girlfriend, family member, or pal will love a handbag, backpack, or tote bag from MATT & NAT. The company puts a special emphasis on using natural, plantbased, and recycled materials in their designs, and of course, everything they make is cruelty-free and vegan.
These cute vegan toiletry bags are from MATT & NAT's vintage collection. They come in a few different colors.
If you've got a vegan gal in your life who wears her heart on her sleeve, gift her a vegan tee. Check out the vegan t-shirts on UniGuide. Not only do they all have vegan slogans on them, they're also eco-friendly – organic cotton and/or made with recycled materials. (And there are some for guys too.)
And if you're looking for sleeveless tees, check out UniGuide vegan tank tops guide. (There are styles for guys too.)
Sand Maiden creates luxurious vegan sleepwear, lounge wear, and lingerie in fabrics like organic cotton. Visit their Etsy store to see their collection.
Viverano creates a variety of personal and homeware items in GOTS certified organic cotton. Vegan ladies who avoid wool will love these soft, eco-friendly, and cruelty-free eternity scarves.
Hats are another clothing item that are frequently made with wool. But these cute ladies' beanies and hats by Charm are made with eco-friendly and cruelty-free materials like organic cotton and hemp.
If you have a fit vegan lady to give to, check out these Polartec stretch gloves. They have a super soft, brushed inner layer that wicks moisture away from your skin while keeping your hands harm. Plus, they have a conductive fabric on the fingertips and thumbs, so you can use them with your touchscreen phone or tablet.
It used to be hard to find great looking vegan boots. Not anymore! Visit UniGuide's women's vegan boots guide to find a great selection of ladies' vegan boots, from rain and snow boots, to dressy boots, work boots, and more.
If you're going somewhere warm for the holidays or just thinking of the next vacation to a sunny place, give the vegan ladies in your life a great pair of cruelty-free sandals. Visit UniGuide's women's vegan sandals guide to see the selection.

And if you're looking for something a little more casual, you can't go wrong with a gift of cruelty-free, eco-friendly flip flips. Visit UniGuide's vegan flip flops guide to see the collection.
For those cold evenings, vegan ladies will love these handmade boho slippers from Siam Tip.
A lot of socks are made with wool, so your vegan girlfriend, pal, or family members will appreciate these colorful, animal-friendly and eco-friendly vegan socks. They're made in the USA with 100% recycled cotton blend yarns, and they have stretch too.
Another great wool sock alternative are these cute, organic cotton socks from Sandiors.
Too many beauty products are still tested on animals, and that includes nail polish. Ella + Mila is a cruelty-free beauty brand that never tests on animals. These vegan nail polishes make great stocking stuffers too.
The healthiest reusable water bottles are stainless steel or glass. Most vegans care about their health and the health of the planet, so they'll love the gift of a healthy, reusable drinking bottle. Visit UniGuide's BPA-free stainless steel and glass water bottles guide to see the best on the market.
I wanted to give a special shout out to the best 100% vegan shoes brands. There are a number of great shoe brands that offer some styles that are vegan, but too many include other shoes in their lineups that are made with animal skin, and in some cases, wool. (If you've ever seen how wool is taken from sheep on an industrial scale, you know it's definitely not cruelty-free.)
With cruelty-free options now available for so many items, why buy anything else? And luckily for us, today there are some vegan designers who are knocking it out of the park, especially in the world of footwear, where there has been serious need for an ethical overhaul.
While we animal lovers welcome shoe brands with open arms when they start offering cruelty-free styles, I think it's fair to put the brands that only make vegan shoes up on a pedestal, don't you? After all, they're walking the talk and talking the walk – demonstrating that animals do not have to suffer – and should not suffer – for whatever humans decide to put on our feet. And the good news is, today vegan shoes are not a sacrifice, whether it's in style, durability, breathability, price, or anything else. Vegan shoes are a win win!
So, in no particular order, here are the best 100% vegan shoes brands. (And if I'm missing any here, feel free to send a nasty message to kristen at uniguide dot biz. Someday, when I have more time to manage them, I'll set up comments on UniGuide, I promise.)
| | |
| --- | --- |
| | Eco-Friendly Brand |
Will's Vegan Shoes makes 100% vegan shoes and boots that are also ethically made and environmentally sustainable.
All of Will's vegan shoes are made in Portugal and Italy, where their workers are protected by EU health, safety, anti-discrimination, and other employment protection laws. Workers also get benefits such PTO, equal pay, and maternity leave.
Will's shoes are also sustainably made. The faux leather and other materials used in their shoes meet the OEKO-TEX® textile standard, which ensures that textiles and the materials used in them meet strict consumer safety guidelines.
In addition, Will's utilizes a carbon-neutral supply chain, and their operations are carbon neutral. Will's invests in renewable energy projects like wind power, hydro power, geothermal, solar power, and biomass. Plus, when you order a pair of Will's shoes, you'll receive them in sustainable, eco-friendly, and recyclable packaging.
Price: ~$112.00 – $156.00
| | |
| --- | --- |
| | Eco-Friendly Brand |
Eco Natural Vegan Shoes is a new brand I discovered on Etsy that makes unique vegan shoes and boots for men and women that are made with Earth-friendly materials.
Price: ~$151.18 – $162.90
| | |
| --- | --- |
| | Eco-Friendly Brand |

I've written about Ahimsa in other posts on UniGuide, including posts for men's boots and shoes, because I'm such a fan of this company's philosophy and what they want to accomplish.
A truly mission-driven venture, Ahimsa is a Brazilian artisanal footwear brand that is out to make more than just high-quality vegan shoes. They say their mission is to create "a more conscious society, one day completely free of cruelty." Lord knows we need more companies like this.
Ahimsa makes all of their shoes in their own workshop, so they can make sure their workers earn a living wage and are treated well. They also put a special emphasis on using eco-friendly materials in their shoes.
| | |
| --- | --- |
| | Eco-Friendly Brand |
MATT & NAT first became well-known for their luxury vegan handbags, and recently they started to introduce fashionable vegan shoes to their collection. The name MATT & NAT is derived from "materials" and "nature." Started in Montreal in 1995, the MATT & NAT team set out to enhance the "humanity, creativity and positivity found in all of us."
Totally cruelty-free from their beginning, MATT & NAT also puts an emphasis on using natural, plantbased, and recycled materials in their designs. Natural materials include cork and natural rubber; and recycled materials include recycled nylon and recycled rubber.
| | |
| --- | --- |
| | Eco-Friendly Brand |
Another 100% vegan footwear company, Native works to maintain a light environmental footprint during their production process. They use a low-emission manufacturing process, and their shoes are made with a foam-injection molding process that minimizes waste.

| | |
| --- | --- |
| | Eco-Friendly Brand |
Bourgeois Boheme makes fashionable cruelty-free shoes for women and men with eco-friendly materials like Piñatex™ pineapple leather, PVC-free faux leather, and vegan microfiber. In addition, they use plant-based polymers that are derived from natural and renewable sources, including grains and seeds vs. petrochemicals.


Based in Vancouver, Canada, People Footwear offers a 100% cruelty-free line of shoes for women, men, and kids. They describe their shoes as "high-performance leisure" as they specialize in lightweight, comfortable designs.
Today, it can be a little hard to imagine there was a time when it was difficult to find high fashion vegan shoes. Like Stella McCartney, Elizabeth Olsen has been a change agent in the fashion world, demonstrating that vegan shoes can be uber-stylish, sexy, and high quality. If you're a vegan lady who likes a little stiletto in your cruelty-free shoes, or you just want a gorgeous pair of shoes for work or a night on the town, definitely check out olsen Haus.
Like olsen Haus, Beyond Skin's founders were frustrated by the lack of stylish, luxury shoes that were also kind to animals. So, they set out to make compassionate waves in the footwear world. Popular with vegan superstars like Natalie Portman, Beyond Skin's stylish shoes are designed in Brighton, UK and made in Alicante, Spain.
Bioworld makes fun, unique vegan shoes, sandals, and boots in their workshops in Toledo, Spain and Italy.
Cri de Coeur translates to "cry from the heart," a perfect name for a compassionate vegan footwear company. Founders Gina Ferraraccio and Julie Dicterow created their line of cruelty-free shoes with a "heartfelt desire to change the face of the fashion footwear and accessory markets by providing stylish, contemporary products that are ethically produced."
Based in Tel Aviv, Israel, Roni Kantor designs lovely, all vegan shoes that are perfect for weddings and other special occasions. Roni's designs are inspired by her love of vintage fashion, and the materials used are inspired by her love of animals.
Jack Steinweis, Kevin Crowley, and Mark Kane, the founders of Unstitched Utilities, understood that modern day consumers want to buy ethical and eco-friendly shoes, but they don't want to sacrifice on style when it comes to honoring their values.
Using vegan dyes and glues in their creations, Unstitched Utilities' shoes are also made with eco-friendly materials. They use a material called Tyvek®, which is a high-density polyethylene fiber that's water resistant, durable, and breathable. It's also vegan and can be recycled.
| | |
| --- | --- |
| | Eco-Friendly Brand |
Stella McCartney was infusing veganism into her designs before vegan was cool. She is a consistent advocate for animal rights and lover of high fashion. This combination of values and passion have brought the world some seriously badass vegan shoes and gorgeous clothes.
| | |
| --- | --- |
| | Eco-Friendly Brand |
A certified B corporation, Indosole repurposes discarded tires and uses them in the soles for their laid back vegan shoes. Kyle Parsons, an avid surfer and environmentalist, started Indosole after a surfing trip to Bali, Indonesia. He was shocked by the amount of trash littering the beaches and ocean in what should have been an island paradise.
On this same trip, Kyle happened to need a new pair of sandals and bought some locally. He was intrigued by how the sandals were made: the soles were created from used motorbike tires. This ingenuity and the desire to reduce the amount of waste polluting Bali's natural environment led Kyle to create a super cool, socially conscious footwear brand that is beloved by surfers, travelers, and others care about the Earth.

| | |
| --- | --- |
| | Eco-Friendly Brand |
I have been following Trade in House for a few years now, and it's been inspiring to see their collection of vegan shoes and accessories expand. Handmade in Portugal with sustainable, eco-friendly cork, Trade in House's collection is both unique and stylish. Be sure to visit their Etsy store to see more styles for men and women.
Price: ~$40.00 – $165.00
With their apropos name, Free Rangers makes unique, free style vegan shoes that are both comfortable and stylish. All of their shoes are handmade to order in their workshop in the UK. They're also 100% cruelty-free. Plus, they come in 19 different colors.
Price: ~$89.00 – $168.00
If you like the leather look, check out Novacas' vegan shoes. Their name means "no cows" in Spanish – the perfect name for a vegan footwear company. All of their faux leather designs are made with non-toxic and PVC-free materials. Plus, they're ethically made in Portugal.
| | |
| --- | --- |
| | Eco-Friendly Brand |
The People's Movement, otherwise known as MOVMT, has a clear mission: to reduce the amount of plastic pollution on land and in the ocean by turning it into something useful – in this case, really cool shoes.
The company talks about making "eco-hip" footwear and accessories, but the simplicity of the term "eco-hip" belies the depth of MOVMT's mission. Eco hip is not just about looking cool. Eco hip stands for where we are in our modern world, when shoes are no longer just shoes; they can a means for solving bigger problems.
MOVMT collects plastic bags in Bali that would otherwise be thrown away and blends them with environmentally-friendly materials to make the fabrics for their shoes. They support the nonprofit 5 Gyres, which also focuses on reducing plastic pollution through oceanic research, community collaboration, and action.
MOVMT shoes are casual and comfortable and come in a variety of colors and styles. In addition to recycled plastic, you'll find styles in other eco-friendly materials, such as organic cotton canvas.
| | |
| --- | --- |
| | Eco-Friendly Brand |
NAE stands for "No Animal Exploitation," which, of course, is another perfect name for an all vegan footwear company. Based in Portugal, NAE's founding principles are that no animals should be exploited for footwear or other reasons.
NAE also focuses on sustainability, using natural materials like cork and Piñatex pineapple leather in their designs. They also use recycled materials from automotive airbags and PET plastic bottles, as well as plantbased microfibers, in their designs.
Price: ~$115.00 – $169.00
| | |
| --- | --- |
| | Eco-Friendly Brand |

Fugu is another all vegan brand that produces truly unique shoes. Self-described as a maker of "cool Japanese shoes," Fugu's unisex canvas shoes and boots speak urban Ninja warrior and warrior princess. Made with recycled rubber soles, Fugu's cool boots have been featured in a few Hollywood movies, including Star Wars and The Hunger Games.
| | |
| --- | --- |
| | Eco-Friendly Brand |
Siam Tip's handmade shoes and boots mix artisanal, handmade design with exotic, ethnic flair. Made by local artisans in Thailand, these all vegan shoes mix tradition with modern, carefree style. They're colorful, comfortable, and cruelty-free.
With a name like Plant-Based by Roy, you know these shoes are vegan. In his workshop in Orlando, Florida, Roy prints artful designs on comfortable vegan leather boots.
BC Footwear makes affordable women's shoes and boots in faux leather and other manmade materials. Whether you're looking for something casual or dressy, or a great pair of shoes for work, BC Footwear offers a number of vegan styles.

Based in sunny Southern California, Blowfish shoes makes cute and comfortable shoes for women in girls in canvas, faux leather, and other manmade materials. They're also super affordable.

Golden Ponies makes cute vegan shoes and accessories in Guadalajara, Mexico. They offer a variety of fun, all vegan shoe styles for women, including iridescent sneakers, sparkly boots, vintage-style t-strap pumps, and cork oxfords. Visit their Etsy store to see them all.

Nature Breeze is another brand that offers a wide range of affordable women's shoes, sandals, and boots in manmade materials. They're great for anyone on a budget. Whether you're looking for platform sandals or knee-high stretchy boots, Nature Breeze has you covered.
To see more vegan shoes and boots on UniGuide, check out these shoe guides:
Remember the good ol' days when families and friends used to gather around the coffee table for a rousing game of Trivial Pursuit or Monopoly instead of having their faces stuck to their phone screens? Sure, we all love a little screen time, but if we stop playing board games together, what might befall our civilization? We can't let that happen! So, get out the organic junk food and call your family and pals. It's time to engage in some ultra-high-quality, off-screen face time. The fun is guaranteed when you play these great board games with an eco twist!
Monopoly
Let's kick things off with a little bit of trivia: The origins of the game Monopoly can be traced as far back as 1902 to a game called "The Landlord's Game," which was designed by Elizabeth Magie, according to Wikipedia. In 1935, on the heels of the Great Depression, when people were in strong need of some aspirational horsepower, Parker Brothers bought a version of the game, which would be a precursor to the Monopoly we all know today. Testament to its longevity, Monopoly has morphed into some educational eco-friendly variations, which you'll see here, that are even more fun than owning a few hotels on Boardwalk or Park Place.
The National Park Edition of Monopoly lets you experience over 60 of the most beautiful and historic sites in America, including the Grand Canyon and Yellowstone, which you can buy, sell, and trade. (This is a little alarming given the current political climate, but then again, this is a game!) The game also features the animals that call these parks home, including grizzly bears and bald eagles. Of course, the six play pieces are tailored to the game and include a ranger hat, tent, canoe, bison, hiking boot, and camera.
In Earthopoly, players can buy properties and collect carbon credits, then trade them for clean air. As they travel the board, they learn about the planet and can pick up green tips from each deed card. The game pieces are made of natural materials and are recyclable, and the game is printed with soy-based ink.
Celebrate your love for the sea with Ocean-Opoly, which features a variety of ocean life, with educational content on the deed cards. Player pieces include a crab, fish, shark fin, lobster, starfish, and seahorse.
Wild Animalopoly has a decidedly pro-animal spin. Deeds to properties become caretaker certificates for animals, rents become meal fees, and houses and hotels are elements and habitats. "Go to Jail" has been retooled as "Hide from Predators," and "Free Parking" is now "The Watering Hole."
In Garden-Opoly, players buy garden favorites that they can trade for greenhouses. Just like any gardener, Garden-Opoly players must deal with the challenges of aphids, weeds, and their water bill. There is an educational aspect to the game, which includes facts on the deed cards, such as soil and watering information and appropriate climate conditions for the plants. The player pieces are garden themed. This is a fun gift for anyone who like to see things grow.
Bugs everywhere deserve a little more respect for the essential role they play in keeping the world's ecosystems healthy. In Bug-Opoly, players buy, sell, and trade their favorite bugs. Players pieces are insects, which makes this an especially great game to play with people who suffer from entomophobia, the fear of bugs. :o)
Just as there are dog people and cat people, there are also penguin people. Needless to say, Penguin Opoly is the perfect gift for the penguin-obsessed. In Penguin Opoly, players collect their favorite penguins, of which there are over a dozen different species. Players can increase the "rent" on their penguin properties by adding ocean water. The educational aspect to the game includes factoids about penguins on the backs of the deed cards.
More Great Eco-Friendly Games
In Fauna, you don't have to be an expert on the animal kingdom, but you do have to have your wits about you and the ability to make an educated guess. There's a little bit of betting, a little bit of education, and a lot of fun in this game.
In Hit the Habitat Trail, players collect Habit Cards when they answer a knowledge question correctly. Questions are multiple choice or true and false, which makes it a great educational game that invites lively discussions and debates. Wisdom and Consequence cards provide information about environmental hazards and solutions. This game is fun for both adults and kids.
The Yahtzee National Parks edition is ready to take on your next camping trip as everything fits into the included dice cup. It's a National Parks twist on the classic game. The dice are park themed with pine trees, deer, a hiker, binoculars, and a canoe. The game comes with a little booklet that includes information on U.S. National Parks, such as the ocean, lake, and river National Parks; natural and scenic National Parks, Civil War battle sites, and the animals of the National Parks. A portion of proceeds go to the National Parks Foundation
In A Beautiful Place, players team up to protect and restore the Earth's natural beauty. The game rewards team work, as players help each other to climb mountains, form communities, and more. Plus, the game has an educational component, as it presents environmental hazards and solutions.
Xeko is a card game that includes a few different editions, which are referred to as missions, including Mission: Indonesia, Mission: Madagascar, Mission: Costa Rica, and others. The different versions showcase animals and plants that are endangered in the various regions. The game focuses on the importance of biodiversity as the objective for players is to create a balanced, diverse ecosystem. Players get Species Cards that they must link with other Species Cards as they battle other players for Eco Points.
The National Parks edition of the classic game Trivial Pursuit is ready to take on your next backroads or car camping adventure. It comes with its own portable carrying case and carabiner. Questions revolve around the U.S. National Parks, with categories that include Battlefields and Historic Sites, Natural Wonders, Cultural Heritage, Science and Nature, and Wildlife. And of course, there's also a Wild Card for those Park-loving geeks who have an expertise in a particular area.
Bug Bingo artfully depicts the natural beauty of the oft-misunderstood insect kingdom. The colorful illustrated game has 64 insect species, which will make playing Bingo with numbers pale in comparison. The tokens are illustrated to match the boards, and the game includes 12 Bingo cards and a brochure with educational information about the various bugs included in the game. Bingo fans everywhere will get a kick out of Bug Bingo!
In Endango, each player is responsible for a different environment, including ocean, ice, safari, or forest, and each environment has three endangered animals. Players take actions around the game board, which help or harm the animals. The ultimate objective is for each player to protect the animals in their environment. The game itself is made with recycled materials and soy-based inks.

Wildcraft! is a cooperative board game that teaches players about herbs and edible and medicinal plants. There's no reading required, so even kids as young as four can enjoying playing. The game itself is made with eco-friendly materials in the U.S.A.
Bioviva was named the Best Trivia Game by Games Magazine in 2000, and players have enjoyed playing it ever since. Players start by drawing a destination card. Throughout the game, they must answer multiple choice questions related to environmental issues, such as animal behavior, renewable energy, and evolution. The game itself is made with recycled materials and vegetable-based inks, and the wooden player pieces are carved from sustainably-harvested beech trees.

Eco-Friendly Card Games
Playing card games will never go out of style, and their portability makes them great for plane rides, camping trips, and other adventures. Here are some with an eco-friendly twist.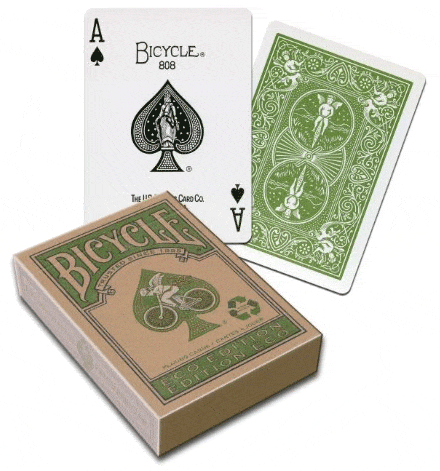 These Bicycle Eco Edition playing cards are printed with vegetable-based inks and laminated with a starch-based glue. They can be recycled, and they're made in the U.S.A.

In the Eco Squad Card Game, players race against each other as they try to match green solutions to the environmental threats facing cities, factories, and homes. The game challenges players to go green in a playful way, as the player who solves the most problems wins.
Uno Wilderness brings an outdoorsy twist to this classic card game. Designed for 2-10 players, Uno Wilderness has the same objective as classic Uno, which is to end up with only one card. The colorful illustrations keep the great outdoors top of mind, which is a good thing for all of us!
Living Earth Games designs cooperative eco- and nature-themed card and board games. The beautiful water colored illustrations make these nature games pretty enough to put on display.
Classic Games Made of Wood

As a society, it's vitally important that we reduce our use of petrol-plastic, so it's fun to see these classic games made with wood and Earth-friendly bamboo.
Jenga is a fun game for people of all ages that never goes out of style. This version has a convenient "put away" container, that make it easy to pick up and store all those pieces once they inevitably come crashing down.
Woods Heritage hand carves beautiful class games, boxes, and other items in their workshop in the Ukraine. These make great gifts to passed down through generations.
Maple Landmark is a small company base in Middlebury, Vermont that produces classic games made from wood that is sourced locally in Vermont, which is 80% forested. Comprised of just 40 people, the Landmark team makes all of their products in Middlebury, and they do their best to source their other materials locally as well.
Price: ~$31.62
Price: ~$23.90
Price: ~$18.44
Classic Games Made of Bamboo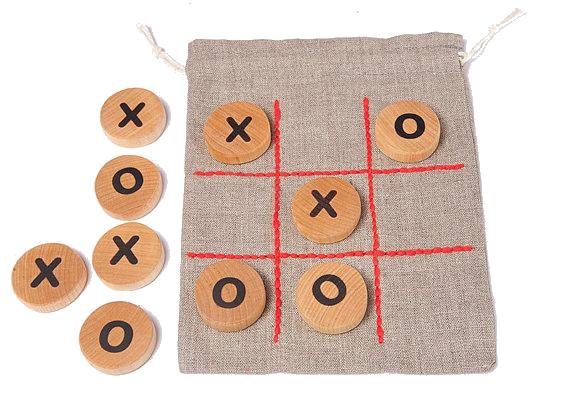 Din Din Toys is a company based in Latvia that makes toys and party favors out of wood. Their Tic Tac Toe game comes with a linen carrying sac that doubles as the game board.
More Fun Wooden Games
Pick up sticks is another classic game that people of all ages enjoy. This special World Wildlife Fund edition feature endangered species and their habitats. It includes 30 colored wooden sticks and a crane-themed wooden storage case. All the components are made from Forest Stewardship Council (FSC) sustainably-harvested wood.
Scrabble is a classic, fun game that never goes out of style. And it's easy to take on road trips, camping, the boat, or anywhere else your adventures take you.
Thinking Monk hand carves some exquisite tabletop games from ash and other woods and colors them with natural dyes. (Vegans, take note that they make some game accessories that use leather.) They also carve custom games.
Price: ~$11.0
I'm a big fan of buying used stuff, so I was happy to see that Etsy has a great selection of vintage board games for those who want to take a stroll down memory lane, or for those who want to try something new that happens to be vintage
Have fun!
Save
What's better than a great looking pair of sunglasses? Two words: recycled sunglasses. I was super excited to find so many socially conscious companies making stylish eco-friendly sunglasses out of recycled materials, as well as bioplastic materials like cellulose acetate. When you learn about the inspiration behind some of these sustainable sunglasses brands, plus the way so many give back by supporting charitable causes, I think you'll feel as psyched as I did when you read about them.
As you're probably already aware, we're experiencing a global plastic waste crisis. So, recycling plastic into other useful products helps to keep it out of our oceans and landfills – at least for a bit longer. It turns out that sunglasses are an ideal use for recycled materials, as they require only small pieces. As a result, product designers can create cool sunglasses from small material scraps. Consequently, we're starting to see some innovative sunglasses made with recycled and upcycled materials. The groundbreaking companies showcased here are making recycled sunglasses out of recycled plastic waste from the ocean, as well as a host of other reclaimed materials, including skateboard decks, aluminum, wood flooring, vinyl records, and more.
We humans buy a lot of sunglasses.
People all over the world wear sunglasses, and let's admit it – many of us own more than one pair. In 2019, it's expected that Americans alone will buy over 200 million pairs of sunglasses. (Statista.) When you combine this with the number purchased by people from other countries, you can see there's a massive market for this accessory. After your cell phone charger, sunscreen, razor, and toothbrush – sunglasses are the most common item that you'll forget to pack when leaving for vacation. So, what do you do? You buy a new pair.
Thankfully, recycled sunglasses and those made with other eco-friendly materials, like wood, bamboo, and bioplastic, are hitting the beaches and streets around the world. And they can't get here fastest enough! In addition to recycled sunglasses, if you'd like to see cool shades made from other eco-friendly materials, check out my post on wood frame and bamboo sunglasses.
Blue Planet says their goals are straightforward: "to help protect the planet, change lives, and have fun." Founded in Santa Barbara, California, the company has been hard at work since 2009 bringing socially responsible and eco-friendly eyewear to people all over the world. They don't just stick to the basics, either. They strive to satisfy all kinds of customers, with eyewear made from a range of sustainable materials, including recycled plastic, recycled metal, wood, bamboo, and cork.
With every pair of glasses they sell, Blue Planet donates a pair to someone in need via their global sight giving partners. To date, they've helped over 400,000 visually impaired people around the world.
Here's Lisa Lawenda, a VP at Blue Planet, and Matt Weinstein, the company's brand manager, talking about Blue Planet's Visualize Change program, which helps restore sight for people around the world.:
Blue Planet offers a variety of lenses as well. They provide standard polarized lenses and lenses with maximum UV protection for extra-sensitive eyes. In addition to their super cool sunglasses, they also make reading glasses.
Unwilling to sit back and let the eight million metric tons of plastic pollution destroy our oceans, the founders of Norton Point have made it their mission to clean up the mess and recycle ocean plastic into high-quality, durable sunglasses. Their sunglasses are all made with recycled ocean plastic and plant-based materials. Based in Martha's Vineyard in Massachusetts, Norton Point donates 5% of their net profits to global ocean clean-up, education, and remediation practices.
Here's a video featuring Shaun Frankson, co-founder of ThePlasticBank, an organization that helps monetize plastic waste by exchanging it for currency to help people in impoverished places. Shaun talks about how Norton Point is repurposing plastic from by ThePlasticBank into their eco-friendly shades.
Norton Point offers a large selection of men's and women's sunglasses, all of which come standard with solid stainless steel hinges. Their lenses feature 100% UVA and UVB protection and an anti-reflective coating, so you'll be ready for the most intensely sunny days.
Solo Eyewear isn't just a brand; it's a remarkable project. Solo is devoted to service and giving back: With every pair of sunglasses they sell, they help restore the vision of a person in need, whether it's an elderly person in an underdeveloped nation thousands of miles away or an impoverished child closer to home.
Solo Eyewear's sunglasses are made with 100% sustainable materials, including recycled plastic and repurposed bamboo, plus they're lightweight and durable. Their lenses are UV protected and prescription-friendly. When it comes to selection, Solo offers a variety of shapes and colors. If you want to look great and be a part of something greater, you can't go wrong with Solo Eyewear.
A pioneer in the sustainable eyewear industry, Boise, Idaho-based Proof Eyewear has been making eco-friendly sunglasses since 2010. In addition to using sustainable materials in their products, Proof donates to charitable organization around the world. Through their Do Good Program, they donate 12% of their annual profits to these causes.
Proof integrates sustainable materials like recycled aluminum, FSC-certified wood, and recycled skateboard decks into their designs. And, they use high-quality lenses. All of their lenses are UVA and UVB protected. If you need prescription lenses, you can easily switch out their standard lenses for your own.
Here's a video from Proof featuring their aviators with recycled aluminum frames:

Here's a video of how Proof converts old skateboard decks into their cool reclaimed wood sunglasses.
Price: $110.00
Dex Shades is another brand that's recycling used skateboard decks and converting them into high quality shades. Each pair of their eco-friendly skateboard sunglasses is subtly colorful and unique. Plus, they're comfortable to wear and super lightweight, weighing less than 1 oz. Dex Shades have polarized lenses and spring-fit hinges for laid back comfort. And as if you need more persuading beyond how cool these sunglasses are, Dex Shades plants a tree for every product they sell.
If there's a luxury brand of skateboard sunglasses, it has to be 7plis. They have a high price point, but these recycled shades have a sleek look that's all their own. 7plis mixes chic design with a cool, distressed look that conveys the history of the materials. You can imagine some gnarly stunts were done on the skateboards from which these sunglasses originated. The lenses all offer 100% UV protection.
Amoloma is another eco-conscious brand that makes cool shades out of recycled and Earth-friendly materials, including used skateboards. They offer a range of color combinations, including red, green, black, brown, and blue. All of their lenses are polarized for optimal UV protection.
Sk8rings is another designer that creates unique, colorful sunglasses made with upcycled skateboards. Based in Serbia, they also make a range of other recycled items, including rings, guitars, guitar knobs, and more. The lenses on their recycled sunglasses are polarized and offer 100% UV protection.
10. Upcycled Vinyl Records Eyewear by Spexwax
If you're a music fan, these cool sunglasses made with upcycled vinyl records are a must-have. San Diego-based Spexwax reclaims unplayable vinyl records and turns them into cutting edge eyewear that epitomizes urban cool. They call their sunglasses "upcycled art for your face." I wholeheartedly agree.
11. Recycled Records Sunglasses by Vinylize
Base in Budapest, Vinylize also hand makes great looking eyewear from upcycled vinyl records.
Woodzee handcrafts their recycled wood sunglasses from reclaimed oak, madrone, and maple hardwood flooring. Each pair is unique. Their shades are comfortable and lightweight, weighing less than 1.5 oz. And their lenses are polarized with 100% UV400 protection.
Here's a video from Woodzee:
For all of you wine lovers (yeah, I'm sure there are a few of you out there :o), check out these truly unique sunglasses make with recycled wine corks. Moon Shades actually uses the byproducts from the wine cork manufacturing process. This means these sunglasses are made with reclaimed, natural sustainable materials. It's hard to get better than that on the eco-friendly scale! The lenses on these eco-conscious shades are polarized. And, as you can see in the photo, these sunglasses float, plus that have comfortable flexibly arms.
In a world of wayfarers and aviators, there is Zanziba Ri, offering sunglasses that are unlike any I have ever seen before. They incorporate upcycled African fabrics into their unique designs, creating beautiful sunglasses that will undoubtedly have people stopping you in the street and asking, "Where did you get those shades?" Not stopping at beautiful design, the company donates 10% of proceeds to educational programs in Tanzania.
Biodegradable Sunglasses
In addition to recycled plastic, today you can find some great styles of sunglasses that are made with cellulose acetate, which is a synthetic compound that is derived from plant cellulose. Cellulose is a readily biodegradable substance by organisms that use cellulose enzymes. So, cellulose acetate, depending on how it's made and on environmental conditions, is more easily biodegradable than traditional petrol-plastic.
Zeal Optics makes a variety of cool bioplastic shades with cellulose acetate frames.
Dzim Eco Eyewear makes cool sunglasses in a wide variety of styles, from wayfarers to aviators, mirrored lenses, and more, and the bioplastic frames 100% biodegradable and made with renewable materials. They have polarized, impact- and scratch-resistant frames. In addition, Dzim ships their eco sunglasses in a cotton cleaning back and minimalist 70% recycled and recyclable packaging.
Other Cool Recycled Sunglasses
17. Bureo Recycled Fishing Net Sunglasses
Bureo collects old fishing nets that are polluting the ocean, breaks them down into tiny pellets, and recycles them into a recycled plastic that makes some very cool shades.
Bureo's founders created a recycling program in Chile dubbed "Net Positiva," which provides collection points where fishermen and other locals can drop off discarded fishing nets that are polluting the ocean and harming marine life. According to Bureo, fishing nets make up 10% of the plastic pollution in the ocean. The Net Positiva program gets the fishing nets out of the sea, while providing financial incentives to local communities to help with collection. Bureo also makes other recycled products, like skateboards and Frisbees. I'm looking forward to seeing what they'll develop next.
Here's a video from Bureo about the Net Positiva program:
18. Sustainable, Recycled Sunglasses by
Karün
Karün is a sustainable eyewear company based in Sweden that makes sunglasses with recycled fishing nets, recycled carbon fiber, recycled denim scraps, and other Earth-friendly materials. The company credits nature as their best "inventor and teacher." With strong, eco-conscious values, the Karün team is focused on creating "a movement of like-minded people that trust that we can change the way we interact with our planet. We want to prove that it is possible to make the best quality products, but in a completely different way."
Price: €99.00 – €215.00
19. Recycled Acetate Sunglasses by Dick Moby

Dick Moby's sunglasses frames are made with 97% recycled acetate. Based in the Netherlands, the company puts a special emphasis on reducing plastic waste by continually recycling it. They offer a wide variety of frames shapes and colors.
20. Upcycled Denim Sunglasses by Mosevic

Mosevic is a UK-based sustainable accessories company that upcycles denim and creates unique, eco-friendly sunglasses and phone cases. All of their products are handmade in Cornwall, England.
21. Paper Sunglasses by Paper & Paper

Paper & Paper is a Spanish company whose philosophy is to "move away from fast-fashion to embrace the handmade movement." They create their one-of-a-kind frames by laser-cutting upcycled paper pieces and then placing them by hand into an acetate base. The process gives their eyeglass frames a cool 3D effect. The company offers frames made from comic books, newspapers, and other types of paper.
To see more eco-conscious sunglasses, check out my post on:
We've got a lot of skin – almost two square miles of it. And it's the biggest toxic-eliminating organ we have, so it seems we should all be treating our skin with great reverence. If you think of all the time (and money) that many of us spend on our hair, doesn't it seem like our skin should get a little more love? I set out to find the best organic and vegan body lotions and hand creams that I could find to share them with you. It was great to see a number of socially conscious brands that have super high standards when it comes to using only the purest, natural ingredients, while being gentle on animals and our planet.
Top Rated, Organic, Vegan!
All of the body lotions and hand creams I present here are top rated by customers on Etsy or Amazon. And of course, every one of them is 100% vegan. Many are made with organic ingredients – I note that in the product title when they are. Plus, many of these brands are Leaping Bunny certified, which means both the products and their ingredients have been independently certified as to not having been tested on animals. After you read about these luscious concoctions, you'll have trouble deciding which one to get!
This organic hand cream by 100% PURE soothes, softens, and nurtures your skin with its luxurious antioxidant and vitamin-rich formula. It's made to intensively moisturize dry, chapped hands, while nourishing your skin with vitamins. Plus, it has a lovely, calming, all-natural fragrance. In addition, it's 100% biodegradable.
What customers say:
One customer said they love the smell of this hand cream, though it takes a little while to get completely absorbed in your skin.
Another described it as "unbelievable." She said she'd never seen a commercial product with so many natural ingredients that are specifically beneficial for the skin.
Still another customer said this natural hand cream works great on aging dry hands, especially in the winter.
About the brand:
A Leaping Bunny certified company, 100% PURE's mission is to make the purest products possible, while promoting clean, healthy living. Founders Ric Kostick and Susie and James Wang are committed to creating a better world by developing personal care products that don't make customers compromise between safety, efficacy, and the environment.
All of 100% PURE's products are non-toxic and biodegradable, and they're made with organic ingredients. It goes without saying that there are no fillers or synthetic ingredients used.
Furthermore, 100% PURE is committed to environmental sustainability. In addition to using 100% biodegradable formulas in their products, they use recycled and recyclable packaging. Plus, they ship their products in biodegradable packing material made from corn starch.
100% PURE is a company that's truly eco-friendly in both product and practice. Their headquarters is powered 100% by solar energy, and they landscape with drought-resistant plants, which they water from the condensation collected from their roof.
All of Avalon Organics' body lotions are biodegradable, and as the name says – made with organic ingredients. These lotions provide intense hydration for extra dry skin. They come in lovely scents, include refreshing lemon, lavender, and peppermint, and there's also an unscented aloe vera. Plus, they're free of GMOs, parabens, sulfates, preservatives, synthetic colors and fragrances, and phthalates. And of course, they're 100% vegan!
One customer said this is the best lotion they've ever tried and that they love the very subtle scent.
Another customer said she has allergies and sensitive skin, and the fragrance-free lotion is non-irritating and gentle on her skin.
About the brand:
Avalon Organics makes a range of all natural, organic beauty products that are all biodegradable. They're also 100% vegan and Leaping Bunny certified.
Here's a little more info on this awesome eco-friendly brand:

This luxurious lotion is made with rich cocoa butter and tropical emollient oils. Other natural ingredients include shea butter, sunflower seed oil, linseed oil, macadamia nut oil, jojoba seed oil, and pineapple. It's 100% vegan and is not tested on animals. In addition, it's free of parabens, phthalates, and synthetic fragrances.
What customers say:
One customer said her elbows, the backs of her legs, and her hands never looked this moisturized.
Another said his skin became almost water-resistant with regular use.
Still another said this lotion will keep even super dry hands moisturized for a long time.
About the brand:
Created in 1979, Alba Botanica's mission is to "Do beautiful." Do beautiful means "keeping our Earth healthy and happy…" Furthermore, Alba's team says they "appreciate the importance of being good stewards of our natural resources, so we do beautiful by reducing our environmental footprint whenever we can."
Alba Botanicals are clearly animal lovers too: "We believe in keeping our friends close, including the furry kind. That's why we never test our products, or any of the ingredients used in them, on animals." Alba Botanicals is also Leaping Bunny certified.
This unscented, natural body lotion is filled with rich botanical emollients to soothe and soften dry and sensitive skin.
What customers say:
Loyal fans of this lotion say they've been using it for years and will never switch
Others say it's the best lotion they've ever used, and that while it's rich and thick, it is not greasy or sticky.
Kiss My Face's emollient body lotion is strong enough to keep your skin moist in super dry weather, while still being gentle if you have sensitive skin. While this lotion is marketed as a body lotion, it's strong enough to work as a hand cream. There are a variety of scents to choose from, as well as one that's fragrance-free, including:
Olive & Aloe Moisturizer with oat, shea, sunflower oil, olive oil, and aloe vera for sensitive skin
Fragrance-Free Olive & Aloe Moisturizer
Coconut Moisturizer with a sweet tropical scent
Pomegranate Acai Moisturizer with acai berry (which is a super food that's rich with omega oil), vitamins B, C, and E., and pomegranate, which contains cell-rejuvenating antioxidants
Vitamins A & E Moisturizer, which helps to heal the skin
Lavender Shea Moisturizer, which hydrates, calms, relaxes, and balances the skin using lavender oil and wild-crafted shea butter, plus apricot and sunflower oil
Peaceful Patchouli Moisturizer, which softens chapped skin with hemp seed oil
Peaches and Crème Moisturizer, which livens up and exfoliates dull skin with fruit acids and sugar cane. Plus, it uses bilberry fruit to lighten pigmentation naturally
Please note, there is one type that is made with honey, which is not vegan.
What customers say:

One customer was skeptical about the efficacy of natural products, thinking they wouldn't work as well, but after trying Kiss My Face, she said she wouldn't go back to her old brand of lotion.
Another reviewer said Kiss My Face made her old hands look 15 year younger!
Some customers noted the fragrance-free version doesn't have a smell, but others said they could smell olive oil. But all in all, most said the fragrance-free lotion has a pleasant smell.
About the brand:
From the start, Kiss My Face has been a cruelty-free brand, and they're Leaping Bunny certified. Their mission is to make high-quality products from natural ingredients in a "healthy and sustainable way." But they're not stopping there: Kiss My Face aims to make products that are far better than conventional products that are not animal- or eco-friendly.
In addition to their top rated moisturizing lotion, they make a range of other natural and vegan skin care products, including sunscreen, shaving cream, deodorant, shampoo, conditioner, and toothpaste.
Here are Kiss My Face's two founders, Bob Macleod and Steve Byckiewicz, talking about how they started the company over 35 years ago:
Saison Beauty makes luscious, 100% natural vegan hand creams and body lotions for every season of the year, which makes perfect sense, as your skin's needs change with the weather and climate.
All of Saison's hand creams have an organic shea butter base, which is then blended with a seasonal oils, like organic apricot kernel oil. As rich as these hand creams are, they're lightweight and won't leave your skin feeling greasy.
Saison's top rated, organic and vegan lotions and hand creams are all PETA certified cruelty-free, as well as Leaping Bunny certified. They're also free of preservatives, petrochemicals, parabens, phthalates, sulfates, synthetic fragrances, colors, and dyes.
What customers say:
One customer said they love how this hand cream smells and that they have different options for every season of the year.
Another said they love the purity of the ingredients.
About the brand:
I had the privilege of visiting Saison Beauty's workshop in San Francisco, where founder Julie Kim and team create Saison Beauty's products in small batches, all by hand. This is a truly artisanal, luxury line of skin care products.
Saison means "season" in French, which was Julie's inspiration for her premium skincare line. Saison Beauty's products are specially formulated for each season and skin type, to nourish your skin throughout the changing months. Each product is made with the highest-quality, organic plant extracts.
Saison's luxurious body lotions blend pure essential oils to moisturize your skin naturally, leaving it feeling soft and hydrated.
An organic, lightweight, unscented, all-purpose daily moisturizer best describes this natural hand and body by Puracy. Packed with rich hydrating ingredients and clinical-grade vitamins, this lotion will make your skin feel soft and smooth. Plus, it won't clog your pores or leave a greasy residue behind. Furthermore, it's hypoallergenic.
What customers say:
One customer, who's in her mid-60s, waited until she finished the bottle before she left a review. She said she's picky with her body lotions, and has tried everything from high-end hand creams to making her own. But once she found Puracy, she said she has nothing but love.
Another reviewer said it's simply the best lotion they've ever used.
Still another said it's a keeper – she'll continue to use it forever.
About the brand:
Based in Austin, Texas, Puracy was founded with a mission to create safe, natural household products that are also super effective. Puracy's founders refused to make a tradeoff between efficacy and being safe for children and pets. With a team of Ph.D. chemists, Puracy has created a superior line of personal care and home cleaning products that are plant- and mineral-based, with natural, botanical fragrances.
Puracy gives back by providing natural and organic household essentials to those in need. With every Puracy product you buy, the company donates natural, organic products to families and children through organizations such as Austin's Children's Shelter and Ronald McDonald House. In addition, Puracy is Leaping Bunny certified.

This luscious, all natural and organic Brazilian Rainforest Body Butter by Teadora is good vibes in a jar. Its ingredients include super fruits and natural oil from the argan tree, which helps to moisturize your skin down to the middle layer – where wrinkles begin.
What customers say:
One customer remarked that this is the first lotion she ever used where she felt her skin stayed hydrated all day without ever feeling greasy. She also noted that it has a nice, subtle fragrance.
About the brand:
Teadora means "adores you" in Portuguese. This is the perfect name for a company that infuses love and care into their products and business practices. Founder Valeria Cole was born and raised in Brazil, where her mother inspired her to care for her skin and hair with natural remedies. And it was her grandmother who taught her about the importance of social responsibility.
Teadora applies their values to every step of their operations and supply chain. Their products are made from raw, natural, and organic ingredients, which are harvested sustainably from the Amazon Rainforest. They also focus on sourcing only Fair Trade and cruelty-free ingredients.
In addition, they partner with nonprofits that help young people in the U.S connect with their local communities by promoting community service and teen leadership. They also work to bring better living conditions to underserved communities in both Brazil and the U.S. Furthermore, Teadora is Leaping Bunny certified.
Here's a video from Teadora:

Body Yum Shop creates delicious natural body butters in delectable scents, such as lavender vanilla, grapefruit, lemon, and mango. They're packed with all natural moisturizing ingredients, like white shea butter, organic coconut butter, and mango butter. And, they melt into your skin without feeling greasy. These natural body butters are free of parabens, sulfates, and dyes, and they're all organic.
What customers say:
Happy customers are crazy about how good these body butters smell.
One said she loved how light it is on the skin.
About the brand:
B. Joslyn whips up natural beauty products in her workshop in Atlanta, Georgia. She started making products for herself because of her sensitive, acne-prone skin. Realizing that ingredients like artificial dyes, fragrances, and preservatives were irritating her skin, she set out to create something better. She began by experimenting with all plant-based ingredients in her kitchen using her mom's cake mixer. Then, she shared her creations with family and friends who raved about them. Now, she's sharing her gentle, all-natural beauty products with the rest of us.
This collection of shea and cocoa butter hand creams by Andalou Naturals is made with organic, Fair Trade ingredients. Available in lavender, lime, and clementine scents, they'll leave your skin nourished and protected throughout the day. And, this top rated vegan hand cream is more than just a hand cream: through Andalou's A Path of Light® program, 100% of the net profits from your purchase will go to support women's and girls' equality and empowerment programs.
What customers say:
One customer said this is one non-toxic product that really works!
Another said the formula is perfect, as it superbly moisturizes without a trace of greasiness left on the skin.
Another customer seconds that claim, saying the formula moisturizes skin deeply, leaving it feeling silky.
About the brand:
Mar and Stacey Kelly Egide, founders of Andalou Naturals, are big advocates for consumers. Andalou Naturals was the first Non-GMO Project verified beauty brand. The Non-GMO Project is a non-profit organization that is dedicated to building and protecting a non-GMO food supply. They do this through consumer education and outreach programs, marketing support for Non-GMO Project verified brands, and training resources and merchandising materials for retailers. As you read about the natural hand creams presented in this post, you can see how non-GMO should apply to what we put on our skin as well as in our mouths! Andalou Naturals is also a Leaping Bunny certified company.
These vegan body lotions come in a variety of luscious scents, including Mandarin Vanilla, Lavender Thyme, Citrus Sunflower, and Rose.
What customers say:
Customers love the scents of these lotions.
They also say just a little bit of this lotion goes a long way.
This hemp hand cream from The Wonder Seed is made with 100% natural ingredients, including virgin hemp seed oil, aloe vera, coconut oil, ginseng extract, and other organic ingredients. It's also made in the U.S.A. It absorbs quickly into your skin and it's non-greasy, leaving a supple feeling to your skin. A small dab is all you need to keep your hands and feet looking and feeling great all day.
What customers say:
One customer said this hand cream gave her the best results for the dry patches on her hands of any lotion she's tried.
Another satisfied customer said that it was the best hand cream he'd ever used in his life, and that it doesn't leave a sticky residue on his hands.
Another said it smells great.
About the brand:
The Wonder Seed's mission is to make products that nurture, heal, and protect your skin and hair. They use 100% organic, virgin hempseed oil, one of the most nutritious oils on Earth. Their formulas are 100% natural and vegan, and they're free of parabens, artificial colors, and perfumes. The Wonder Seed is a cruelty-free brand – never testing on animals.
This light moisturizer is made with 100% pure hemp seed oil. Rich in vitamins A, C, and E, it will help to protect your skin from environmental oxidants. It also contains moisturizing shea butter, as well as ginseng to soothe the skin. Its 100% vegan and THC-free. In addition, it's free of parabens and gluten.
What customers say:
One customer, who spends hours playing volleyball in the sun, said this moisturizer is especially soothing on sun-damaged skin.
Another said it smells like flowers and bananas
About the brand:
Hempz makes a wide variety of natural vegan and cruelty-free beauty products for your skin and hair.
This magnesium hand cream by Awakening Skin Care is formulated with magnesium and potassium from the Dead Sea. The natural minerals help to hydrate and repair rough, tired skin. This natural hand cream is also 100% vegan and cruelty-free. It's lightly aromatic, with the subtle scents of cinnamon, ginger, and myrrh.
What customers say:
One customer said they love the non-greasy feel and subtle scent of this natural hand cream. Though, they said the scent doesn't linger for long, and that the cream absorbs in less than a minute after application.
Another customer credits this hand cream with helping her while she was undergoing radiation treatments for breast cancer, saying it really helped to keep her skin healthy and hydrated.
About the brand:
Rob Hardwicke and his brothers Bob and Marty Fischer founded Awakening Mineral Skin Care over 20 years ago. They wanted to create a natural skincare line that would solve skin problems for as many people as possible. This meant developing products that were all natural and completely healthy for your skin. It turned out that magnesium, a natural anti-allergen, became one of their hallmark ingredients. In addition, their love for their many household pets meant their brand had to be 100% vegan and cruelty-free.
AHAVA's natural and vegan Mineral Hand Cream is perfect for daily use. Rich in skin-friendly minerals, such as magnesium, calcium, and potassium, as well as Dead Sea water, this hand cream delivers a treasure trove of rich nutrients to your skin.
What customers say:
One customer said that if you've never tried AHAVA because of the cost, get over it because it's worth every penny! This customer said AHAVA melts into your skin and immediately moisturizes and renews it, with absolutely no greasy after effects.
Another customer said this by far the best hand cream they've ever used.
And another customer said it helped to reduce the brown age spots on her hands.
About the brand:
AHAVA produces luxurious and effective products that are clinically proven to protect, nourish, and rejuvenate your skin. All of AHAVA's products contain Osmoter, an exclusive, perfectly-balanced blend of Dead Sea minerals that recharge, rehydrate, and illuminate the skin.
Here's a little more information about AHAVA:

AHAVA's body lotion has natural minerals that are sourced from the Dead Sea. They include magnesium, calcium, and potassium, which nourish and moisturize the skin without leaving it feeling greasy or sticky. It's also soothing for itchy skin, and works best when applied on damp skin.
What customers say:
Customers said they were skeptical of how Dead Sea minerals could actually be beneficial for your skin, but after using it, they fell in love with it. They also said there were noticeable improvements to their skin within a day of using it.
There are some who say if you wouldn't eat it, don't put it on your skin. And it's true that as we eliminate toxins through our skin, we can also absorb things. If you're a person who follows the "I'll only put edible products on my skin" philosophy, then this may be the perfect moisturizer for you. It's organic, food grade, unrefined, cold pressed 100% virgin coconut oil. I'm a big fan of pure coconut oil, and so are my cats, who come into the bathroom every time they smell it.
The organic coconut oil has numerous benefits, in addition to being a great hand cream: you can eat it and you can put it in your hair.
Cold pressed and unrefined means the oil is pressed from the coconut meat (hate that word!) at cool temperatures to preserve its enzymes and health benefits. It's not bleached or deodorized either, and it's free of additives. In addition, this coconut oil is also USDA certified organic and certified Kosher.
What customers say:
One customer got this cream for her husband who has psoriasis. She said they'd tried different solutions from dermatologists, but nothing stopped the flareups as much as this all natural coconut oil.
About the brand:
Sky Organics makes a variety of all-natural handcrafted skin care products in small batches. They source all of their ingredients from highly reputable, all-natural organic artisanal farms. And, they never test their products on animals.
As the name says, Adamia's Therapeutic Repair Hand Cream is designed for distressed, cracked, and burning hands. It's made with the company's exclusive blend of pure macadamia nut oil, which is rich in omega-7 oils. Macadamia nut oil closely mimics your skin's own oils, resulting in exceptional absorption and hydration.
This natural vegan hand cream is dermatologist-tested and hypoallergenic. Plus, it's free of fragrances, parabens, petroleum, soy, GMOs, and gluten. And of course, it's cruelty-free!
What customers say:
One customer bought this hand cream for her 82-year old father because the skin on his hands and arms bruises and tears easily. She reported that in less than two weeks, this hand cream had an amazingly positive effect on his skin.
Another customer, who is an avid rock climber, says this hand cream works especially well on her sore and torn up hands after a fun day of climbing.
About the brand:
Adamia's founders set out to help people with hurting skin, especially the elderly. Macadamia nut oil contains more omega-7 oils than any other nut oil. And it closely resembles human sebum, allowing it to mimic your skin's natural oil production, which results in exceptional absorption for superior hydration.
This natural body lotion by Adamia is a winner of the Women's Choice Award for Therapeutic Lotions. It contains pure macadamia nut oil, which is rich in omega-7 oils, and is especially soothing on the skin. It's also been clinically proven to heal distressed skin. This hypoallergenic and vegan body lotion is free of fragrances, parabens, petroleum, soy, gluten, and GMOs.
What customers say:
A customer who is an anesthesiologist has to wash his hands multiple times per day. His fingertips got so dry, they cracked and bled. He said Adamia' lotion healed his hands and is the best therapeutic skin repair lotion he's ever used.
This natural hand lotion blends moisturizing oils, including organic sweet almond oil, organic avocado oil, organic jojoba oil, and unrefined shea butter. Shea Butter helps heal skin wounds, improve scars, and it can be a helpful treatment for eczema, rashes, burns, and severely dry skin. It comes in a dozens of sumptuous scents, including Papaya, Baja Cactus, Cherry Almond, Gardenia, Chocolate, Mango, and others. Be sure to visit The Country Escape's Etsy store to see more.
What customers say:
Customers gush over this handmade lotion. They love the scents, and say it's extra thick, but goes on smooth and isn't sticky or greasy.
About the brand:
The Country Escape handcrafts their natural lotions and soaps in Abilene, Texas. They're goal is helping their customers relax and de-stress. And, they say they make perfect gifts for loved ones.
Say goodbye to rough and calloused patches on your skin, and give your hardworking hands a treat. This extra rich, yet lightweight, organic shea butter hand and cuticle cream can be used on your whole body. It's revitalizing, hydrating, and ultra-moisturizing. It's also non-greasy and is quickly absorbed into your skin.
What customers say:
Customers rave about this vegan hand cream, calling it fantastic, even with the first use. And they say it works even better with regular use.
One customer said that it's the finest hand cream he ever used.
Another customer, who suffers from eczema and has extremely sensitive skin, said this cream helped her skin stay healthy without feeling greasy.
About the brand:
Endlessly Beautiful's founder, Jennifer Muthui, was inspired by the idea of creating a product line that was all natural and cruelty-free. Furthermore, she wanted to inspire and encourage women to love and respect their bodies. Thus, she began creating organic and vegan beauty products and officially started Endlessly Beautiful in 2015. When Jennifer became a mom a year later, the importance of chemical-free beauty products really hit home. All of Endlessly Beautiful's products are made in the USA with love to enhance the natural beauty that everyone possesses.
This hand cream is made with carrot oil, jojoba oil, avocado butter, shea butter, and kale extract. The combination of avocado and shea butter provides a luxurious base that's a balm to your skin that absorbs quickly.
What customers say:
One customer said this hand cream softened the skin around her knuckles so she "feels like a lady again."
Another said they love the scent and the texture of this lotion, and that it's not too oily.
About the brand:
The Cottage Greenhouse offers a variety of tempting natural beauty products, which are made with 98% all natural ingredients. Every product, whether it's their scrubs, skin oil, bubble bath, or lotions, is full of botanical plant infusions. In addition, every product is guaranteed to be cruelty-free and paraben-free.
This body lotion is made with the perfect blend of macadamia nut oil, mango butter, and apricot kernel oil. Plus, it's cruelty-free.
What customers say:
Customers say they love the smell of this lotion and that it makes a great gift.
Pacifica's Indian Coconut Nectar Super Hydrating Hand Cream fights signs of aging while providing moisture and protection. This vegan hand cream is made with nature's best moisturizers – shea butter, almond oil, and safflower oil. Plus, it's paraben-free.
What customers say:
One customer said it's worth every penny and that it quickly absorbs into your skin and doesn't leave it feeling greasy.
Another said she loves the natural scent, and bought more as a gift for her sister.
About the brand:
Pacifica Beauty's products are made with high-quality, natural ingredients. And they're always 100% vegan and cruelty-free. In addition, Pacifica gives back by encouraging their customers to send their empty product containers back to them, using a prepaid shipping label they provide, so they can be recycled.
This organic moisturizer contains only four natural, raw, organic, and non-GMO ingredients: extra virgin olive oil and lavender, almond, and grapeseed oil. It can be used on your hands, cuticles, hair, and as an all over body moisturizer. It's also helpful for eczema, psoriasis, and other skin problems. Plus, it's 100% vegan and cruelty-free.
What customers say:
Hundreds of customers rave about this natural skin oil and say its beneficial all over your skin and in your hair too.
About the brand:
Bliss of Greece sources the finest organic ingredients for their skin oils and natural soaps.
Dr. Bronner's organic lotions are all 100% vegan and cruelty-free. Their body lotions are made with organic jojoba oil, which is unique among natural oils in its similarity to your skin's own natural oil. Other all natural ingredients include organic coconut oil, organic hemp seed oil, and organic avocado oil. Some of the signature scents include Orange Lavender, Peppermint, and Lavender Coconut. Plus, these organic oils are free of petrochemically modified ingredients and preservatives.
What customers say:
Some customers discovered Dr. Bronner's body lotions after using their soaps and they said they are now lifelong converts for the brand.
Others love the purity of the ingredients that Dr. Bronner's uses without using "the nasty stuff."
About the brand:
Started in 1948 by Emanuel Bronner, Dr. Bronner's is a mission-based, family-owned and -run business to this day. Emanuel was a third-generation master soap maker from a German-Jewish soap making family. His vision was to make high-quality products that were also socially and environmentally responsible. Dr. Bronner's continues to fulfill that vision day after day and year after year. Some of the company's guiding principles include treating employees like family and being fair to their suppliers and also the Earth. The Dr. Bronner's team is also committed to near-zero waste and animal advocacy. Many of their products are biodegradable and none are tested on animals.
Here's just one example of activism that Dr. Bronner's supports. And you can see more great videos in their YouTube channel.
To your skin! Cheers!
I try to read Nature quotes every day because they keep me focused on what really matters. In the old days, before the Industrial Revolution, people could get away with exploiting Nature's abundant treasures. Those days are long gone. We've exploited Mother Nature enough; it's time to help her rejuvenate.
This means no more digging and drilling, no more clear cutting and polluting, no more fishing and factory farming. We've unearthed more than our fair share of riches from this paradise that we call home, and now it's time to give back. Now, we need to reuse what we have, upcycle and recycle, compost and garden, grow and share that which sustains life on Earth – instead of poisoning it.
It can be overwhelming – this mess we humans have made, which we now have to clean up. It's like waking up, heads pounding from a hangover, with nausea in our bellies after a hard night of partying – only to see broken glass, carpet stains, and random debris all over the living room, that we now have to clean up.
This is why I'd like to share these quotes with you – quotes about nature, wilderness, the Earth, and protecting it – because they remind us that it's worth every effort to do so. Wise women and men have been warning us for decades. We need to pay more attention and to act.
Inspirational Nature Quotes
Claude Monet Quotes About Nature
1.
"I owe perhaps becoming a painter to flowers."
–Claude Monet
2.
"The richness I achieve comes from Nature, the source of my inspiration."
–Claude Monet
Albert Einstein Nature Quotes
3.
"Look deep into nature, and you will understand everything better."
–Albert Einstein
4.
"The most beautiful gift of nature is that it gives one pleasure to look around and try to comprehend what we see."
–Albert Einstein
Jacques Cousteau Quotes
5.
"We forget that the water cycle and the life cycle are one."
–Jacques-Yves Cousteau
6.
"People protect what they love."
–Jacques-Yves Cousteau
7.
"The sea, once it casts its spell, holds one in its net of wonder forever."
–Jacques-Yves Cousteau
8.
"The sea is man's only hope. Now, as never before, the old phrase has a literal meaning: we are all in the same boat."
–Jacques-Yves Cousteau
9.
"For most of history, man has had to fight nature to survive; in this century he is beginning to realize that, in order to survive, he must protect it."
–Jacques-Yves Cousteau
10.
"Water and air, the two essential fluids on which all life depends, have become global garbage cans."
–Jacques-Yves Cousteau
More Inspiring Nature Quotes
11.
"Rain is grace."
–John Updike
12.
"Come forth into the light of things, let nature be your teacher."
–William Wordsworth
13.
"It is not so much for its beauty that the forest makes a claim upon men's hearts, as for that subtle something, that quality of air that emanation from old trees, that so wonderfully changes and renews a weary spirit."
–Robert Louis Stevenson
14.
"He is richest who is content with the least, for content is the wealth of nature."
–Socrates
15.
"I have loved the stars too fondly to be fearful of the night."
–Galileo Galilei
16.
"If you can't be in awe of Mother Nature, there's something wrong with you."
–Alex Trebek
17.
"Perhaps the truth depends on a walk around the lake."
–Wallace Stevens
18.
"Nature gives to every time and season some beauties of its own."
–Charles Dickens
19.
"Nature's beauty is a gift that cultivates appreciation and gratitude."
–Louie Schwartzberg
20.
"Nature is the art of God."
–Dante Alighieri
Rachel Carson Quotes
21.
"There is something infinitely healing in the repeated refrains of nature – the assurance that dawn comes after night, and spring after winter."
–Rachel Carson
22.
"Those who contemplate the beauty of the Earth find reserves of strength that will endure as long as life lasts."
–Rachel Carson
23.
"The question is whether any civilization can wage relentless war on life without destroying itself, and without losing the right to be called civilized."
–Rachel Carson
24.
"The more clearly we can focus our attention on the wonders and realities of the universe about us, the less taste we shall have for destruction."
–Rachel Carson
Ralph Waldo Emerson Nature Quotes
25.
"Nature always wears the colors of the spirit."
–Ralph Waldo Emerson
26.
"The Earth laughs in flowers."
–Ralph Waldo Emerson
27.
"Adopt the pace of nature. Her secret is patience."
–Ralph Waldo Emerson
28.
"Nature never hurries. Atom by atom, little by little, she achieves her work."
–Ralph Waldo Emerson
29.
"Nature is loved by what is best in us."
–Ralph Waldo Emerson
30.
"I am the lover of uncontained and immortal beauty. In the wilderness, I find something more dear and connate than in streets or villages."
–Ralph Waldo Emerson
31.
"In the woods, we return to reason and faith."
–Ralph Waldo Emerson
32.
"In the presence of nature, a wild delight runs through the man, in spite of real sorrows."
–Ralph Waldo Emerson
Henry David Thoreau Quotes About Nature
33.
"Shall I not have intelligence with the Earth? Am I not partly leaves and vegetable mold myself."
–Henry David Thoreau
34.
"In the wilderness is the salvation of the world."
–Henry David Thoreau
35.
"Heaven is under our feet as well as over our heads."
–Henry David Thoreau
36.
"Live in each season as it passes; breathe the air, drink the drink, taste the fruit, and resign yourself to the influence of the Earth."
–Henry David Thoreau
37.
"If a man walks in the woods for love of them half of each day, he is in danger of being regarded as a loafer; but if he spends his whole day as a speculator, shearing off those woods and making the Earth bald before her time, he is esteemed an industrious and enterprising citizen."
–Henry David Thoreau
Emily Dickinson Nature Quotes
38.
"How strange that nature does not knock, and yet does not intrude!"
–Emily Dickinson
39.
"Nature is our eldest mother; she will do no harm."
–Emily Dickinson
Walt Whitman Nature Quotes
40.
"Now I see the secret of the making of the best persons: It is to grow in the open air and to eat and sleep with the Earth."
–Walt Whitman
41.
"I believe a leaf of grass is no less than the journey work of the stars."
–Walt Whitman
42.
"Now I see the secret of making the best person: it is to grow in the open air and to eat and sleep with the Earth."
–Walt Whitman
Alice Walker Nature Quotes
43.
"In nature, nothing is perfect and everything is perfect. Trees can be contorted, bent in weird ways, and they're still beautiful."
–Alice Walker
44.
"I understood at a very early age that in nature, I felt everything I should feel in church but never did. Walking in the woods, I felt in touch with the universe and with the spirit of the Universe."
–Alice Walker
More of the Best Nature Quotes
45.
"I felt my lungs inflate with the onrush of scenery – air, mountains, trees, people. I thought, 'This is what it is to be happy.'"
–Sylvia Plath
46.
"My soul can find no staircase to Heaven unless it be through Earth's loveliness."
–Michelangelo
47.
"Choose only one master: Nature"
–Rembrandt
Frank Lloyd Wright Nature Quotes
48.
"Study nature, love nature, stay close to nature. It will never fail you."
–Frank Lloyd Wright
49.
"I believe in God, only I spell it Nature."
–Frank Lloyd Wright
More Nature Quotes
50.
"There is a way that nature speaks, that land speaks. Most of the time we are simply not patient enough, quiet enough, to pay attention to the story."
–Linda Hogan
51.
"Nature is pleased with simplicity. And nature is no dummy."
–Sir Isaac Newton
52.
"Where flowers bloom, so does hope."
–Lady Bird Johnson
53.
"Nature does not hurry, yet everything is accomplished."
–Lao Tzu
54.
"Look at a tree, a flower, a plant. Let your awareness rest upon it. How still they are, how deeply rooted in being."
–Eckhart Tolle
55.
"Earth and sky, woods and fields, lakes and rivers, the mountain and the sea, are excellent schoolmasters, and teach of us more than we can ever learn from books."
–John Lubbock
56.
"Like music and art, love of nature is a common language that can transcend political or social boundaries."
–Jimmy Carter
57.
"Just living is not enough. One must have sunshine, freedom, and a little flower."
–Hans Christian Andersen
58.
"The poetry of the Earth is never dead."
–John Keats
59.
"In all things of nature, there is something of the marvelous."
–Aristotle
60.
"I can find God in nature, in animals, in birds and the environment."
–Pat Buckley
61.
"I go to nature to be soothed and healed, and to have my senses put in order."
–John Burroughs
62.
"To sit in the shade on a fine day and look upon the verdant green hills is the most perfect refreshment."
–Jane Austin
63.
"Nature is less expensive than therapy."
–Unknown
64.
"Butterflies are self-propelled flowers."
–Robert A. Heinlein
65.
"We do not see nature with our eyes, but with our understandings and our hearts."
–William Hazlett
66.
"Love is a chain of love as nature is a chain of life."
–Truman Capote
67.
"In wilderness, I sense the miracle of life, and behind it, our scientific accomplishments fade to trivia.
–Charles Lindbergh
68.
"Spring is nature's way of saying, 'Let's party!'"
–Robin Williams
Vincent Van Gogh Quotes About Nature
69.
"I have nature and art and poetry, and if that is not enough, what is enough?"
–Vincent Van Gogh
70.
"If you truly love nature, you will find beauty everywhere."
–Vincent Van Gogh
More Nature Quotes
71.
"There is pleasure in the pathless woods. There is rapture on the lonely shore. There is society where none intrudes, by the deep sea and music in its roar. I love not man the less, but Nature more."
–Lord Byron
72.
"The goal of life is to make your heartbeat match the beat of the universe, to match your nature with Nature."
–Joseph Campbell
73.
"Every flower is a soul blossoming in nature."
–Gérard De Nerval
74.
"Mother Nature speaks in a language understood within the peaceful mind of the sincere observer."
–Radhanath Swami
75.
"The world is mud-luscious and puddle-wonderful."
–e. e. cummings
76.
"I think that I shall never see a poem lovely as a tree."
–Joyce Kilmer
77.
"I believe the world is incomprehensibly beautiful – an endless prospect of magic and wonder."
–Ansel Adams
Wilderness Quotes
John Muir Quotes About Nature and Wilderness
78.
"The mountains are calling, and I must go."
–John Muir
79.
"In every walk with nature one receives far more than he seeks."
–John Muir
80.
"The clearest way into the Universe is through a forest wilderness."
–John Muir
81.
"When one tugs at a single thing in nature, he finds it attached to the rest of the world."
–John Muir
82.
"Everybody needs beauty as well as bread, places to play in and pray in, where nature may heal and give strength to body and soul."
–John Muir
83.
"Going to the mountains is going home."
–John Muir
84.
"Most people are on the world, not in it."
–John Muir
85.
"And into the forest I go to lose my mind and find my soul."
–John Muir
86.
"In God's wildness lies the hope of the world."
–John Muir
87.
"Climb the mountains and get their good tidings. Nature's peace will flow into you as sunshine flows into trees. The winds will blow their own freshness into you, and the storms their energy, while cares will drop away from you like the leaves of Autumn."
–John Muir
88.
"Society speaks, and all men listen; mountains speak, and wise men listen."
–John Muir
89.
"Wilderness is a necessity. There must be places for human beings to satisfy their souls."
–John Muir
Edward Abbey Quotes
90.
"The idea of wilderness needs no defense, it only needs defenders."
–Edward Abbey
91.
"May your trails be crooked, winding, lonesome, dangerous, leading to the most amazing view. May your mountains rise into and above the clouds."
–Edward Abbey
92.
"Love of wilderness is more than a hunger for what is always beyond reach. It is also an expression of loyalty to the Earth, the Earth which bore us and sustains us, the only home we shall ever know, the only paradise we ever need if only we had the eyes to see."
–Edward Abbey
93.
"Wilderness is not a luxury but a necessity of the human spirit."
–Edward Abbey
94.
"Nature is indifferent to our love, but never unfaithful."
–Edward Abbey
95.
"We need the possibility of escape as surely as we need hope."
–Edward Abbey
96.
"Why this cult of wilderness? Because we like the taste of freedom; because we like the smell of danger."
–Edward Abbey
Jon Krakauer Quotes
97.
"The very basic core of a man's living spirit is his passion for adventure. The joy of life comes from our encounters with new experiences."
–Jon Krakauer
98.
"I now walk into the wild."
–Jon Krakauer, Into the Wild
99.
"The thing that is most beautiful about Antarctica for me is the light. It's like no other light on Earth, because the air is so free of impurities. You get drugged by it, like when you listen to one of your favorite songs. The light there is a mood-enhancing substance."
–Jon Krakauer
100.
"The way to Everest is not a Yellow Brick Road."
–Jon Krakauer
101.
"I think part of the appeal of Antarctica is experiencing some sort of power, the forces of the natural world."
–Jon Krakauer
More Inspirational Quotes About the Wilderness
102.
"Mountains are not stadiums where I satisfy my ambition to achieve, they are the cathedrals where I practice my religion."
–Anatoli Boukreev
103.
"To me, wilderness is where the flow of wildness is essentially uninterrupted by technology. Without wilderness the world is a cage."
–David Brower
104.
"We must go beyond textbooks, go out into the bypaths and untrodden depths of the wilderness and travel and explore and tell the world the glories of our journey."
–John Hope Franklin
105.
"The wilderness is a place that every believer has to experience to be molded for their divine purpose."
–E'yen a. Gardner
106.
"The wilderness is healing, a therapy for the soul."
–Nicholas Kristof
107.
"When we heal the Earth, we heal ourselves."
–David Orr
108.
"In the wilderness, we experience the faithfulness of God."
–Lailah Gifty Akita
109.
"The wilderness is a place of rest – not in the sense of being motionless, for the lure, after all, is to move, to round the next bend. The rest comes in the isolation from distractions, in the slowing of the daily centrifugal forces that keep us off balance."
–David Douglas
110.
"Wilderness gave us knowledge. It made us human. We came from here. Perhaps that is why so many of us feel a strong bond to this land called Serengeti; it is the land of our youth."
–Boyd Norton
111.
"Without wilderness, we will eventually lose the capacity to understand America. Our drive, our ruggedness, our unquenchable optimism and zeal and élan go back to the challenges of the untrammeled wilderness."
–Harvey Broome
112.
"The wilderness is a place of an encounter with the creator."
–Lailah Gifty Akita
Earth Quotes
113.
"Earth provides enough to satisfy every man's need, but not every man's greed."
–Mahatma Gandhi
114.
"Forget not that the Earth delights to feel your bare feet and the wind longs to play with your hair."
–Khalil Gibran
115.
"The Earth is what we all have in common."
–Wendell Berry
116.
"Love the world as your own self, then you can truly care for all things."
–Lao Tzu
William  Shakespeare Earth and Nature Quotes
117.
"The Earth has music for those who listen."
–William Shakespeare
118.
"One touch of nature makes the whole world kin."
–William Shakespeare
Environmental Protection Quotes
119.
"I really wonder what gives us the right to wreck this poor planet of ours."
–Kurt Vonnegut
120.
"I think when a surfer becomes a surfer, it's almost like an obligation to be an environmentalist at the same time."
–Kelly Slater
121.
"I believe the American people care a lot about the environment."
–Robert Redford
122.
"A thing is right when it tends to preserve the integrity, stability, and beauty of the biotic community. It is wrong when it tends otherwise."
–Aldo Leopold
123.
"Wilderness is harder and harder to find these days on this beautiful planet, and we're abusing our planet to the point of almost no return."
–Betty White
124.
"The first rule of sustainability is to align with natural forces, or at least not try to defy them."
–Paul Hawken
125.
"Destroying rainforest for economic gain is like burning a Renaissance painting to cook a meal."
–E.O. Wilson
126.
"Something will have gone out of us as a people if we ever let the remaining wilderness be destroyed. We simply need that wild country available to us, even if we never do more than drive to its edge and look in."
–Wallace Stegner
Theodore Roosevelt Nature and Environment Quotes
127.
"Leave it as it is. The ages have been at work on it and man can only mar it."
–Theodore Roosevelt
128.
"There are no words that can tell the hidden spirit of the wilderness, that can reveal its mystery, its melancholy and its charm."
–Theodore Roosevelt
Native American Quotes About Nature
129.
"In our every deliberation, we must consider the impact of our decisions on the next seven generations."
–Unknown, Iroquois Proverb
130.
"One does not sell the Earth upon which the people walk."
–Crazy Horse, Lakota Sioux Nation
131.
"We must protect the forests for our children, grandchildren, and children – yet to be born. We must protect the forests for those who can't speak for themselves, such as the birds, animals, fish, and trees."
–Qwatsinas, Nuxalk Nation
132.
"Take nothing but memories, leave nothing but footprints!"
–Chief Si ahl, Duwamish and Suquamish Nations
Chief Seattle Quotes

133.
"Humankind has not woven the web of life. We are but one thread within it. Whatever we do to the web, we do to ourselves. All things are bound together. All things connect."
–Chief Seattle, Duwamish and Suquamish Nations
134.
"When the Earth is sick, the animals will begin to disappear. When that happens, the warriors of the rainbow will come to save them."
–Chief Seattle, Duwamish and Suquamish Nations
135.
"All things share the same breath – the beast, the tree, the man… The air shares its spirit with all the life it supports."
–Chief Seattle
136.
"Humans merely share the Earth. We can only protect the land, not own it."
–Chief Seattle
137.
"Treat the Earth with reverence. It was not given to us by our parents; it was loaned to us by our children."
–Unknown, Native American Proverb
138.
"Teach us to walk the soft Earth as relatives to all that live."
–Sioux Prayer
139.
"The Holy Land is everywhere"
–Black Elk, Lakota Sioux Nation
140.
"The Great Spirit is in all things, he is in the air we breathe. The Great Spirit is our Father, but the Earth is our Mother. She nourishes us, that which we put into the ground she returns to us."
–Big Thunder, Wabanaki Algonquin Nation
141.
"Walk lightly in the spring; Mother Earth is pregnant."
– Unknown, Kiowa Nation Proverb
Chief Joseph Quotes
142.
"The earth is the mother of all people, and all people should have equal rights upon it."
–Chief Joseph
143.
"We live, we die, and like the grass and trees, renew ourselves from the soft Earth of the grave. Stones crumble and decay, faiths grow old and they are forgotten, but new beliefs are born. The faith of the villages is dust now… but it will grow again… like the trees."
–Chief Joseph, Nez Perce Nation
144.
"I love the land of winding waters more than all the rest of the world. A man who would not love his father's grave is worse than a wild animal."
–Chief Joseph, Nez Perce Nation
More Native American Quotes About Nature
145.
"Only to the white man was nature a wilderness, and only to him was the land infested' with wild animals and savage people. To us it was tame, Earth was bountiful, and we were surrounded with the blessings of the Great Mystery."
–Black Elk, Oglala Lakota Sioux Nation
146.
"The ground on which we stand is sacred ground. It is the dust and blood of our ancestors."
–Chief Plenty Coups, Crow Nation
147.
"We are the natural nurturers of the Earth Mother. The Earth Mother needs our help, she needs our prayers."
–Agnes Baker-Pilgrim, Takelma Nation
148.
"The frog does not drink up the pond in which he lives."
–Unknown, Native American Proverb
149.
"I was warmed by the sun, rocked by the winds and sheltered by the trees, as other Indian babes. I can go everywhere with a good feeling." –Geronimo, Apache Nation
150.
"The land is sacred. These words are at the core of your being. The land is our mother, the rivers our blood. Take our land away and we die. That is, the Indian in us dies."
–Mary Brave Bird, Sicangu Oyate Lakota Sioux Nation
151.
"The ground on which we stand is sacred ground. It is the blood of our ancestors."
–Plenty Coups, Crow Nation
152.
The Great Spirit is in all things: he is in the air we breathe. The Great Spirit is our father, but the Earth is our mother. She nourishes us; that which we put into the ground she returns to us."
–Big Thunder Wabanaki, Algonquin Nation
153.
"When man moves away from nature, his heart becomes hard."
–Luther Standing Bear, Lakota Sioux Nation
Photos: Wikimedia Commons
Hemp shoes are happy shoes because they check all of the boxes:
They're eco-friendly
They're durable
They're (usually) vegan
They're comfortable and breathable
And they're stylish!
As we become a more environmentally conscious society, wearing shoes made of sustainable, cruelty-free materials speaks volumes about our personal values and social awareness.
And suddenly the natural aesthetic of hemp shoes isn't just for hippies anymore! In my book, these are some of the most eco chic and fashion forward shoes you can find today. While it's true most styles of shoes made from hemp are casual, we're starting to see more dress styles, and I anticipate options will only continue to expand as more designers experiment with this wonder material, and more consumers see the light.
What makes hemp an ideal material for shoes?
Hemp is proving itself to be one of the most versatile, eco-friendly materials around:
The hemp plant grows easily, and sustainably, without the use of pesticide, herbicides, and fungicides, thus much of the hemp fiber you find is organic.
The naturally anti-microbial properties of the hemp plant make it an ideal material for shoes, as it doesn't hold on to odors like other materials like leather and some synthetics do.
Hemp is hypoallergenic, so unlike materials like wool, it won't irritate your skin.
Furthermore, hemp fiber is extremely strong, which makes it durable enough for shoes.
But as a natural fiber, unlike synthetics, hemp will eventually decompose. This is a good thing because your hemp shoes will have a lighter environmental footprint than shoes made with petroleum-based materials or animal skin that's treated with preservatives.
Hemp Shoes for Women
| | |
| --- | --- |
| | Eco-Friendly Brand |
These comfy ladies' slip-on shoes from Sanuk have 100% hemp uppers. They've also got a cushioned EVA footbed and rubber soles.
Available colors: black, red, gray, and natural
| | |
| --- | --- |
| | Eco-Friendly Brand |
Perfect for hiking the trails, walking your pup around town, or just running errands, these cute eco-friendly sneakers have a breathable hemp and recycled polyester upper.
Available colors: gray multi
| | |
| --- | --- |
| | Eco-Friendly Brand |
These ladies' hemp sneakers are handmade in the Ukraine. They're naturally antibacterial and hypoallergenic. If you're concerned about their light color, no worries! You can throw these puppies into the washing machine.
Available colors: natural hemp
| | |
| --- | --- |
| | Eco-Friendly Brand |
With their side zips and little ankle charms, these cute ladies' hemp high tops are both comfortable and durable. They're handmade and machine washable.
Available colors: dark gray
| | |
| --- | --- |
| | Eco-Friendly Brand |
Fans of Vibram's "barefoot" athletic shoes swear by them for both comfort and performance. Now Vibram has come out with a style in hemp, and Earth lovers everywhere can rejoice.
Available colors: brown and black
| | |
| --- | --- |
| | Eco-Friendly Brand |
You can't go wrong with a company called Eco Natural Vegan Shoes  – or a great pair of ballerina flats. These comfy flats are hand made with all natural hemp and cotton.
Available colors: light gray and natural tan
Hemp Boots for Women
| | |
| --- | --- |
| | Eco-Friendly Brand |
Tough and durable yet comfortable, these ladies' hemp boots have thick, natural rubber soles, a cotton lining, and removable insoles.
Available colors: dark gray
| | |
| --- | --- |
| | Eco-Friendly Brand |
Made with organic hemp, these cute desert boots are hand made to order. Visit Hemp Organic Life's Etsy store to see more of their Earth-friendly designs.
Available colors: navy blue and natural
| | |
| --- | --- |
| | Eco-Friendly Brand |
Lovely flowers are hand-appliquéd on these sweet, eco-friendly hemp moccasins.  See more designs in Ukrainian Tradition OK's Etsy store.
Available colors: off-white and other colors
Hemp Sandals for Women
| | |
| --- | --- |
| | Eco-Friendly Brand |
Virblatt imports a variety of ethnic fashions made with eco-friendly hemp. These wedge sandals are handmade in Thailand. They have combo t-straps and ankle straps with open toes.
Available colors: red multi and black multi
| | |
| --- | --- |
| | Eco-Friendly |
With colorful ethnic fabric and cute, gladiator style ankle laces, these hemp and jute rope sandals are real stand outs.
| | |
| --- | --- |
| | Eco-Friendly Brand |
Luludu Collective hand makes cute ladies' crochet sandals with hemp rope that are also 100% vegan.
Available colors: brown, black, turquoise, and tan.
| | |
| --- | --- |
| | Eco-Friendly Brand |
A socially conscious company, SOLÉ puts a special emphasis on environmental stewardship. They run a carbon negative business by purchasing carbon offsets and planting cork trees, harvesting the bark, and recycling wine corks. In addition to their eco-friendly cork footbeds, these vegan sandals have hemp and recycled polyester straps. Plus, they're super comfortable!
| | |
| --- | --- |
| | Eco-Friendly Brand |
San Clemente, California-based Rainbow Sandals has a line of hemp flip flops that have a natural aesthetic. They acquire the cool frayed look once they're worn in a bit. Rainbow Sandals does make some leather versions, so be sure to check the product details before you buy. But I salute them for giving to a number of charities, with a special emphasis on education. Their hemp sandals come in natural off-white, brown, and black.
It's great to see athletic footwear company Keen get on the hemp bandwagon with these rugged ladies' athletic sandals.
Available colors: natural hemp multi
Hemp Shoes for Men
| | |
| --- | --- |
| | Eco-Friendly Brand |
These versatile sneakers are the perfect travel shoes – great for hiking in nature or trekking around the urban jungle. The eco-friendly upper is made with hemp and recycled polyester.
Available colors: dark brown and gray
While TOMS is still making too many shoes with leather and suede, it's always encouraging to see them come out with some cruelty-free styles. These cool high-top sneakers have a hemp textile upper. And for every pair you buy, TOMS will donate a pair of shoes to a child in need.
Available colors: gray and black
| | |
| --- | --- |
| | Eco-Friendly Brand |
You can't go wrong when you wear shoes from a company called "Eco Natural Vegan Shoes." These gray sneakers are hand made with vegan faux suede and hemp uppers.
| | |
| --- | --- |
| | Eco-Friendly Brand |
For those times you'd rather go barefoot, but it's just not a good idea, there are the Vibram's athletic "toe" shoes. Now, with a new style in hemp, you can have it all: sort of like going barefoot in shoes that are gentle on the Earth and animals.
Available colors: black and brown
| | |
| --- | --- |
| | Eco-Friendly Brand |
Eco Natural Vegan Shoes does it again with these super cool vegan, faux suede, and hemp high tops.
| | |
| --- | --- |
| | Eco-Friendly Brand |
One of Vans' more eco-friendly styles, these vegan loafers have a canvas hemp upper and are made with water-based ink and glue.
Available colors: khaki and black
| | |
| --- | --- |
| | Eco-Friendly Brand |
Popular with surfers, Sanuk makes a variety of cool, eco-friendly and vegan shoes and flip flops. These slip-on loafers have casual, frayed hemp uppers and rubber soles.
Available colors: red, black, dark gray, navy blue, natural tan, brown, light brown
| | |
| --- | --- |
| | Eco-Friendly Brand |
Chillax in these kick-back 100% hemp loafers. They're handmade by Hemp Made in UA, an artisanal brand based in the Ukraine, which makes a variety of clothing and accessories from eco-friendly, sustainable hemp.
Available colors: gray heather
| | |
| --- | --- |
| | Eco-Friendly Brand |
These men's hemp espadrilles say, "Vacation." They're handmade in Northern Thailand from natural, locally grown hemp. They have a padded insole and rubber soles.
Available colors: natural, black, and multi
Hemp Boots for Men
| | |
| --- | --- |
| | Eco-Friendly Brand |
It seems natural that desert boots should be made with hemp. These eco-friendly men's boots are hand made in Merano, Italy by the aptly named Eco Natural Vegan Shoes.
Available colors: natural tan, brown, and dark gray
| | |
| --- | --- |
| | Eco-Friendly Brand |
Another great pair of hemp boots from Eco Natural Vegan Shoes, these men's hiking boots have a durable hemp and faux micro suede upper, plus rugged, natural rubber soles.
Available colors: dark gray
| | |
| --- | --- |
| | Eco-Friendly Brand |
Classic men's work boots go sustainable and cruelty-free. Another great hemp boot from Eco Natural Vegan Shoes, these work boots are rugged and ready for any terrain, plus they're breathable and naturally anti-microbial.
Available colors: dark gray
Hemp Sandals for Men
| | |
| --- | --- |
| | Eco-Friendly Brand |
Rainbow Sandals makes a line of flip flops with hemp accents that are the go-to sandals for surfers and other summer-loving folks. These hemp flip flops have a relaxed, frayed look, plus they're super comfortable. (Rainbow Sandals does make some styles with leather, so if you're vegan, be sure to check the product details.)
Available colors: natural, brown, and black
| | |
| --- | --- |
| | Eco-Friendly Brand |
These casual Baja sandals by Crevo have a woven hemp fabric upper, and the padded footbed is vegan faux suede. I got confirmation from Crevo that the materials in these sandals are 100% vegan.
| | |
| --- | --- |
| | Eco-Friendly Brand |
If you're looking for a flip flop-style hemp sandal vs. a slide, no worries, Crevo has you covered!
Available colors: beige and brown
| | |
| --- | --- |
| | Eco-Friendly Brand |
A lot of hemp is grown in Nepal, so purchasing hemp sandals from Nepal helps local economies there. Nirvana 8 imports a variety of handmade hemp sandals from the Kathmandu Valley. They offer a number of different colors and patterns. If you're wondering if hemp might be rough on your feet, no worries, it breaks in with wear like your favorite pair of jeans.
| | |
| --- | --- |
| | Eco-Friendly Brand |

Janice Winner imports a number of different styles of hemp sandals and other accessories from China. You can see more in her Etsy store. If you're tired of flip flops and want the slide-in style, these sandals fit the bill.
If you love hemp sandals but your active lifestyle puts your toes at risk, check out these athletic sandals from Keen. They have a hemp-polyester upper with the standard rugged Keen soles and toe guards.
Available colors: natural tan
| | |
| --- | --- |
| | Eco-Friendly Brand |
If you love hemp and are looking for a dressier shoes, check out these hemp oxfords from Hemp Made in the Ukraine.
To see more eco-friendly and vegan shoes on UniGuide, check out these guides:
Today, I submitted a new word to the Urban Dictionary: "veco."
I think it sums up two philosophies that are branches of the same tree. It's a combination of "vegan" and "eco."
Vegan + Eco = Veco
To me these two terms have the same underlying philosophy. Living a vegan and an eco-conscious lifestyle – "veco" – means we are aware of how our lifestyle choices impact others. It means we are willing to make adjustments that contribute to our own health and the health of others, including other species. It means we are doing, at the least, what is within out power to do less harm.
These two terms are rooted in great power – and not abusing that power.
Where does that great power come from?
It comes from awareness, from expanded consciousness, and from empathy.
As human beings, we are now the dominant species on Earth because we have the power to destroy everything. And we are certainly hell-bent on a path to do just that – as we decimate other species on this planet and destroy entire ecosystems.
This is the essence of abuse of power.
Abuse of power is always idiotic, always the antithesis of expanded consciousness and spiritual evolution. We know better. We have the power to do better. We have the power to nurture and protect those who are weaker than we are – instead of abusing and exploiting them.
To me, living a veco lifestyle means to live a life that harnesses the power that we all possess – to be knowledgeable, to be understanding, to be empathetic, to not exploit our advantage. It's the opposite of abuse of power.
Living the veco way means to stand in real power, which involves making decisions and taking actions that love, nurture, and protect others – each other, our fellow species, and the natural ecosystems that support life on this planet.

Whether you need a great pair of men's vegan shoes for work or other dress up occasions, or for relaxed and casual comfort, you'll find them here. And many of the vegan men's shoes featured here take it up a notch on the socially conscious scale because they're also made with eco-friendly materials, such a sustainable hemp, cork, and plant-based, vegan microfibers.
I tried to organize them into logical categories, including vegan oxfords and vegan skate shoes and boat shoes, but many could easily fall into multiple categories, so be sure to scroll through to see them all. And if you're looking for a great pair of vegan men's boots, you can see those in my Cool Men's Boots guide on UniGuide. Enjoy!
Vegan Men's Dress Shoes
| | |
| --- | --- |
| | Eco-Friendly Brand |