Remember the good ol' days when families and friends would gather around the coffee table for a rousing game of Trivial Pursuit or Monopoly instead of having their faces stuck to their phone screens? Sure, we all love a little screen time, but if we stop playing board games together, what might befall our civilization? We can't let that happen! So, get out the organic junk food and call your family and pals. It's time to engage in  some ultra-high-quality, off-screen face time. The fun is guaranteed when you play these great board games with an eco twist!
Monopoly
Let's kick things off with a little bit of trivia: The origins of the game Monopoly can be traced as far back as 1902 to a game called "The Landlord's Game," which was designed by American Elizabeth Magie, according to Wikipedia. In 1935, on the heels of the Great Depression when people were in strong need of some aspirational horsepower, Parker Brothers bought a version of the game that was the precursor to the Monopoly we all know today. Testament to its longevity, Monopoly has morphed into some educational eco variations that are even more fun than owning a few hotels on Boardwalk or Park Place.
The National Park Edition of Monopoly lets you experience over 60 of the most beautiful and historic sites in America, including the Grand Canyon and Yellowstone, which you can buy, sell, and trade. (This is a little alarming given the current political climate, but then again, this is a game!) The game also features the animals that call these parks home, including grizzly bears and bald eagles. Of course, the six play pieces are tailored to the game and include a ranger hat, tent, canoe, bison, hiking boot, and camera.
Price at the time of this post: $32.30
In Earthopoly, players can buy properties and collect carbon credits, then trade them for clean air. As they travel the board, they learn about the planet and can pick up green tips from each deed card. The game pieces are made of natural materials and are recyclable, and the game is printed with soy-based ink.
Prices at the time of this post: $15.95 – $24.99
Celebrate your love for the sea with Ocean-Opoly, which features a variety of ocean life, with educational content on the deed cards. Player pieces include a crab, fish, shark fin, lobster, starfish, and seahorse.
Price at the time of this post: $19.91
Wild Animalopoly has a decidedly pro-animal spin. Deeds to properties become caretaker certificates for animals, rents become meal fees, and houses and hotels are elements and habitats. "Go to Jail" has been retooled as "Hide from Predators," and "Free Parking" is now "The Watering Hole."
Price at the time of this post: $24.10
In Garden-Opoly, players buy garden favorites that they can trade for greenhouses. Just like any gardener, Garden-Opoly players must deal with the challenges of aphids, weeds, and their water bill. There is an educational aspect to the game, which includes facts on the deed cards, such as soil and watering information and appropriate climate conditions for the plants. The player pieces are garden themed.  This is a fun gift for anyone who like to see things grow.
Price at the time of this post: $19.14
Bugs everywhere deserve a little more respect for the essential role they play in keeping the world's ecosystems healthy. In Bug-Opoly, players buy, sell, and trade their favorite bugs. Players pieces are insects, which makes this an especially great game to play with people who suffer from entomophobia, the fear of bugs. :o)
Price at the time of this post: $23.20
Just as there are dog people and cat people, there are also penguin people. Needless to say, Penguin Opoly is the perfect gift for the penguin-obsessed. In Penguin Opoly, players collect their favorite penguins, of which there are over a dozen different species. Players can increase the "rent" on their penguin properties by adding ocean water. The educational aspect to the game includes factoids about penguins on the backs of the deed cards.
Price at the time of this post: $19.16
Other Great Eco-Friendly Games
In Fauna, you don't have to be an expert on the animal kingdom, but you do have to have your wits about you and the ability to make an educated guess. There's a little bit of betting, a little bit of education, and a lot of fun in this game.
Price at the time of this post: $29.71
In Hit the Habitat Trail, players collect Habit Cards when they answer a knowledge question correctly. Questions are multiple choice or true and false, which makes it a great educational game that invites lively discussions and debates. Wisdom and Consequence cards provide information about environmental hazards and solutions. This game is fun for both adults and kids.
Price at the time of this post: $26.89
The Yahtzee National Parks edition is ready to take on your next camping trip as everything fits into the included dice cup. It's a National Parks twist on the classic game. The dice are park themed with pine trees, deer, a hiker, binoculars, and a canoe. The game comes with a little booklet that includes information on U.S. National Parks, such as the ocean, lake, and river National Parks; natural and scenic National Parks, Civil War battle sites, and the animals of the National Parks. A portion of proceeds go to the National Parks Foundation
Price at the time of this post: $16.99
In A Beautiful Place, players team up to protect and restore the Earth's natural beauty. The game rewards team work, as players help each other to climb mountains, form communities, and more. Plus, the game has an educational component, as it presents environmental hazards and solutions.
Price at the time of this post: $13.94
Xeko is a card game that includes a few different editions, which are referred to as missions, including Mission: Indonesia, Mission: Madagascar, Mission: Costa Rica, and others. The different versions showcase animals and plants that are endangered in the various regions. The game focuses on the importance of biodiversity as the objective for players is to create a balanced, diverse ecosystem. Players get Species Cards that they must link with other Species Cards as they battle other players for Eco Points.
Prices at the time of this post: $52.75 – $143.30
The National Parks edition of the classic game Trivial Pursuit is ready to take on your next backroads or car camping adventure. It comes with its own portable carrying case and carabiner. Questions revolve around the U.S. National Parks, with categories that include Battlefields and Historic Sites, Natural Wonders, Cultural Heritage, Science and Nature, and Wildlife. And of course, there's also a Wild Card for those Park-loving geeks who have an expertise in a particular area.
Price at the time of this post: $19.97
Bug Bingo artfully depicts the natural beauty of the oft-misunderstood insect kingdom. The colorful illustrated game has 64 insect species, which will make playing Bingo with numbers pale in comparison. The tokens are illustrated to match the boards, and the game includes 12 Bingo cards and a brochure with educational information about the various bugs included in the game. Bingo fans everywhere will get a kick out of Bug Bingo!
Price at the time of this post: $19.08
In Endango, each player is responsible for a different environment, including ocean, ice, safari, or forest, and each environment has three endangered animals. Players take actions around the game board, which help or harm the animals. The ultimate objective is for each player to protect the animals in their environment. The game itself is made with recycled materials and soy-based inks.
Price at the time of this post: $29.99
 
Wildcraft! is a cooperative board game that teaches players about herbs and edible and medicinal plants. There's no reading required, so even kids as young as four can enjoying playing. The game itself is made with eco-friendly materials in the U.S.A.
Price at the time of this post: $29.99
Bioviva was named the Best Trivia Game by Games Magazine in 2000, and players have enjoyed playing it ever since. Players start by drawing a destination card. Throughout the game, they must answer multiple choice questions related to environmental issues, such as animal behavior, renewable energy, and evolution. The game itself is made with recycled materials and vegetable-based inks, and the wooden player pieces are carved from sustainably-harvested beech trees.
Prices at the time of this post: $14.98 – $34.50

Eco-Friendly Card Games
Playing card games will never go out of style, and their portability makes them great for plane rides, camping trips, and other adventures. Here are some with an eco-friendly twist.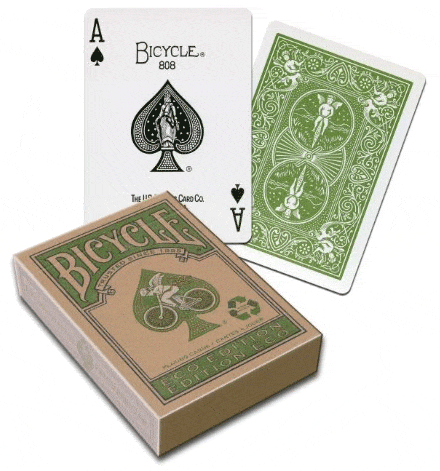 These Bicycle Eco Edition playing cards are printed with vegetable-based inks and laminated with a starch-based glue. They can be recycled, and they're made in the U.S.A.
Price at the time of this post: $8.23

In the Eco Squad Card Game, players race against each other as they try to match green solutions to the environmental threats facing cities, factories, and homes. The game challenges players to go green in a playful way, as the player who solves the most problems wins.
Price at the time of this post: $14.99
Uno Wilderness brings an outdoorsy twist to this classic card game. Designed for 2-10 players, Uno Wilderness  has the same objective as classic Uno, which is to end up with only one card. The colorful illustrations keep the great outdoors top of mind, which is a good thing for all of us!
Price at the time of this post: $5.97
Living Earth Games designs cooperative eco- and nature-themed card and board games. The beautiful water colored illustrations make these nature games pretty enough to put on display.
Prices at the time of this post: $4.08 – $9.80
Classic Games Made of Wood

As a society, it's vitally important that we reduce our use of petrol-plastic, so it's fun to see these classic games made with wood and Earth-friendly bamboo.
Jenga is a fun game for people of all ages that never goes out of style. This version has a convenient "put away" container, that make it easy to pick up and store all those pieces once they inevitably come crashing down.
Price at the time of this post: $16.99
Maple Landmark is a small company base in Middlebury, Vermont that produces classic games made from wood that is sourced locally in Vermont, which is 80% forested. Comprised of just 40 people, the Landmark team makes all of their products in Middlebury, and they do their best to source their other materials locally as well.
Price at the time of this post: $31.62
Price at the time of this post: $23.90
Price at the time of this post: $18.44
Classic Games Made of Bamboo

Price at the time of this post: $26.95
Price at the time of this post: $15.50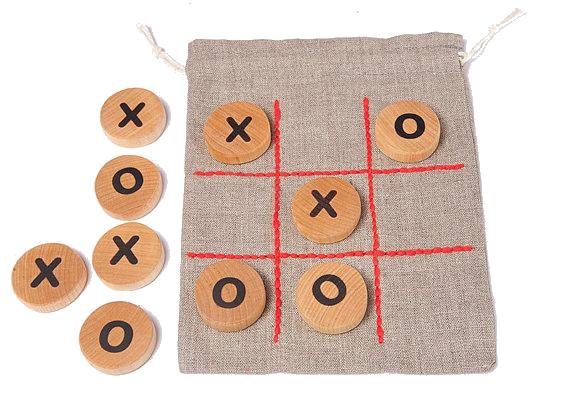 Din Din Toys is a company based in Latvia that makes toys and party favors out of wood. Their Tic Tac Toe game comes with a linen carrying sac that doubles as the game board.
Price at the time of this post: $11.03
Pick up sticks is another classic game that people of all ages enjoy. This special World Wildlife Fund edition feature endangered species and their habitats. It includes 30 colored wooden sticks and a crane-themed wooden storage case. All the components are made from Forest Stewardship Council (FSC) sustainably-harvested wood.
This wooden Scrabble set is made by BSIRIBIZ, which also sells replacements pieces, making it convenient if you want to play this classic came with a large group.
Price at the time of this post: $20.00
As a company that promotes eco-friendly products, we'll always encourage our visitors to buy used things when they have the option. Etsy has a great selection of vintage board games for those who want to take a stroll down memory lane, or for those who want to try something new that just so happens to be vintage
Prices at the time of this post: $7.99 – $94.00

Have fun!
Save