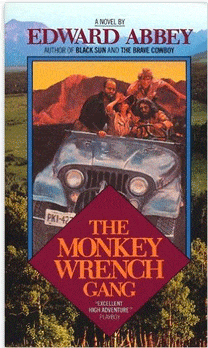 Today is Edward Abbey's birthday. For those of you who haven't read any of his books, he is probably most known for The Monkey Wrench Gang, which was published in 1975.
The Monkey Wrench Gang centers around the wilderness of the American West and four main characters who resort to extreme measures (including destroying construction sites and heavy equipment) to protect the wilderness from industrial development. It's an engaging and fun read about a serious topic and it played a role in shaping the modern day environmental movement. I've heard it's going to be made into a movie, and all I can hope is they do it justice (which may be impossible).
I read The Monkey Wrench Gang when I was an environmental studies major in college. At that time, there was a lot of controversy over the logging of old growth forests in northern California. Trees that had been alive since Christopher Columbus came to America, and even earlier – during the Roman Empire – were being cut down for timber. Today, there is only 5% of the old growth redwood forests left.
During Redwood Summer, which is what the collective anti-logging activities were referred to, I drove some friends and fellow activists in my old Ford Econoline van from San Francisco to northern California to join the protests.
Because I had a van full of people, it seemed perfectly normal to pick up hitchhikers along Highway 101.
The first hitchhiker we picked up was a lady in a long gray robe. Her gray hair was pulled back in a long braid and she introduced herself simply as Ellen. She explained with a serious yet serene face that she was coming from a three-month retreat where she had taken a vow of silence for the duration. Other than her introduction and telling us where she was headed, Ellen remained quiet, sitting on a pillow in the back of the van, listening to the rest of us talk about trees, music, and various traveling adventures.
The next hitchhiker we picked up was a big guy with a beard in jeans and a flannel shirt opened over a t-shirt.
His name was Bob and he was headed to Eureka.
"Where are you guys headed?" he asked.
'We're headed up to Arcata then back down to Fort Bragg for the logging protests,' I said. 'What do you do in Eureka?'
Out of my rearview mirror, I saw Bob's eyes move from left then right, as if noticing for the first time that he was in the back of a van with two dogs, a Buddhist nun, and a bunch of hippies, one of whom was wearing a tie dyed t-shirt with "Hayduke Lives" printed in faded black letters across the front. (This was in honor of George Hayduke, the main character in The Monkey Wrench Gang.)
"I'm a logger," Bob said. "Guess you better let me out."
My friend Scott, the one in the tie dyed t-shirt, said, "Hey, hold on a sec! Let's have a dialogue."
"Pull over," Bob said. "Let me out."
"Come on, man. We're not against you," Scott said.
"Let me out of this damn van."
I pulled over and Bob opened the sliding door and jumped out. He then shouted, "Get a job!" as he slammed the door shut.
Quiet Ellen burst out laughing. "Oh my," she said. "Oh. My. That was something. That was something."
It upset me that we didn't get the chance to make friends with Bob. I also wanted to tell Bob that I did have a job.
I canvassed for Greenpeace.
Going Door-to-Door, Raising Money for Greenpeace
I met some interesting people when I went door-to-door, asking them for money. Aside from the rare creep, like the guy who answered the door in nothing but an open Hugh Hefner robe and invited me in to "talk about nature," most people were congenial and generous.
We would canvass in the late afternoon and evening because more people were home, and so we'd often start the day in a neighborhood park, where we'd eat lunch and discuss the environmental issues we'd be covering in the field that day.
One hot summer day in Pleasanton, California, an upper middle class neighborhood 40 miles east of San Francisco, we stopped at a community park that had a giant fountain. The park was full of elderly people, moms, nannies, and kids.
Our team sat at a picnic table, discussing the day's topics, when my friend Scott abruptly stood up and remarked, "It's too damn hot." (Yep, the same Scott who had wanted to dialogue with the lumberjack in my van.) Scott then walked over to the fountain, took off all of his clothes, dropped them into a heap, and waded buck naked into the fountain, and then laid on his back.
The citizens of Pleasanton stopped and stared as if a UFO had just landed.
With the rest of us giggling, our beleaguered team leader, Jeff, walked over and told Scott to put on his clothes. To us, Scott was just being Scott. For the residents of Pleasanton, he might as well have been a creepy guy in an open Hugh Hefner robe flashing everyone.
A Chemical Spill in the Sacramento River and a Narrow Escape
On another canvassing trip, this time to Sacramento, our main topic of discussion was a tanker train that had derailed, spilling 19,000 gallons of the chemical fumigant metam sodium into the Sacramento River. (Metam sodium is used primarily in agriculture to kill soil fungi, insects, and nematodes before planting.) The spill killed fish, among other things, and even made workers removing the dead fish ill.
At one door, I rang the bell and a lady in a house dress, smoking a cigarette, sauntered up to the closed screen door.
I introduced myself. 'Hi, my name is Kristen and I'm from Greenpeace. We're in your community today to raise awareness about issues impacting our planet. Do you know about the recent chemical spill in the Sacramento River?'
"I ain't heard nothin'," she said, as she continued smoking inside her screen door.
'Well, unfortunately, it did happen,' I said. 'It caused a lot of destruction, poisoning the river and killing fish.'
"I ain't heard nothin'," she repeated.
'Well, it's true. Here's an article in the paper about it,' I said, as I pulled a Xeroxed sheet of paper from my clipboard to hand to her.
She still didn't open her screen door.
"You don't listen too well," she said, "I told you I ain't heard nothin'."
All of my cool hippie chick aplomb crumbled away and, unable to control the heat rising in my head, I said, 'Well, if people like you didn't sit on your asses in oblivion all day, maybe we could change some things!'
At that, cigarette lady opened her eyes into large saucers, then squinted them back down again and took a drag off her cigarette. She exhaled in my face through the screen door and yelled, "Get off my propaty!"
'Yeah, well, f%#k you!' I said.
That's when she opened her screen door, and brandishing her cigarette like a weapon, she shrieked, "I said get off my propaty!!"
By then, I was halfway across her lawn. I saw my friend Dave, who was canvassing on the other side of the street, turn around, mouth agape, as I ran down the street. I only slowed down long enough to look back and see that cigarette lady had stopped short at the end of her front lawn, like a snarling junkyard dog halting at a chain link fence.
Happy Birthday, Edward Abbey
Thanks for inspiring me take a stand for what I believe in.