There's never been a better selection eco-friendly backpacks made with recycled and other sustainable materials, such as hemp and cork. Whether you need a backpack for rugged outdoor use, travel, or carrying your laptop to a cafe, you'll find some great options here. So, ditch the traditional nylon and check out these sustainable packs!
1. Solo Re:claim Recycled Backpacks
Solo's Re:claim collection offers a variety of eco-friendly backpacks and other bags made with recycled plastic. With a sleek, minimalist design, these bags are perfect for recreational travel, business trips, or everyday use. Plus, Solo ships their backpacks in sustainable packaging.
2. United by Blue Socially Conscious Backpacks
A certified B Corporation, United by Blue removes a pound of trash from the ocean and waterways for every product they sell. To date, they're already removed a whopping 3.5 million pounds of trash from the great outdoors.
Their collection of products and accessories are made with sustainable materials, including GOTS certified organic cotton and recycled PET plastic. Plus, their eco-friendly backpacks come with a lifetime guarantee.
To check out hats by United by Blue, visit my posts on beanies for men and women.

3. Eco Backpacks Made with Recycled Plastic Bottles
Johnny Urban is a brand that makes a variety of backpack styles with 100% recycled plastic bottles. The straps are faux leather and the materials are water resistant.
These backpacks have magnetic snap fasteners and a zipper pocket under the front flap. Plus, there's a padded compartment for your laptop.
Measurements: 17.7" x 12.2" x 4.7"
Price: ~$29.95 – $49.95

4. Patagonia Recycled Backpacks
For over four decades, Patagonia has been producing super high-quality products that are infused with environmental consciousness and low-impact materials. And the company has recently pledged to be completely carbon neutral by the year 2025. Patagonia's recycled backpacks are made with recycled nylon and recycled polyester.
Here's a video about Patagonia's Refugio backpack, one of their most popular daypacks.
5. Patagonia Black Hole Day Pack
Patagonia's Black Hold Pack is the perfect daypack for outdoor adventures or running around town. It's made with super tough 100% recycled polyester fabric that is water-resistant. Plus, it has a 100% recycled polyester lining and 100% recycled nylon webbing.
It's got a large main pocket compartment that has an internal padded sleeve that will fit a 15″ laptop. On the outside, it has daisy chain lash points that will securely hold your skateboard or yoga mat.
In addition, it has a zippered front pocket for things you need quick-access to. Padded shoulder straps make it comfortable for all day wear and a molded back panel wicks moisture and allows airflow to get though.
Here's a video about the Black Hole Pack:

6. REI Recycled Nylon Backpacks
REI has a new collection of eco-friendly backpacks made with recycled ripstop nylon. Super strong, the fabric also repels water. There are a few different sizes, styles, and colors to suit your needs.
7. Ecogear Eco-Friendly Backpacks
Ecogear is another brand that makes great backpacks out of 100% recycled materials. Their backpacks are great for school, business trips, recreational travel, or just running around time. They come in a variety of sizes and colors, and there are plenty that will hold laptop.
Their backpacks also come with internal zip pockets and outside zippered compartments.

8. Ecogear Eco Hiking Backpack
Another great recycled backpack by Ecogear, this pack is perfect for hiking and other adventures. It has an adjustable hip belt and shoulder straps to get the perfect fit, plus there's a back venting system for airflow.
It measures 26″ long x 13″ wide x 9.5″ deep.

9. Fjallraven Recyclable Plastic Bottles Pack
This minimalist convertible pack can be worn as a backpack or carried by its sturdy handles. It's also made with recycled plastic. Each Fjallraven backpack keeps 11 plastic water bottles out of the landfill.
This eco backpack measures 14.9″ x 10.6″ x 5.1″.

10. ChicoBag Recycled PET Plastic Rucksack
If you're looking for a compact daypack that's also eco-friendly, check out this rucksack by ChicoBag. It's made with a durable ripstop fabric that's made from 100% post-consumer recycled plastic bottles, which is lightweight and washable.
This rucksack has an adjustable sternum strap and padded, adjustable, and breathable shoulder straps. It comes with a carabiner, so you can attach the pack to another backpack or your luggage. It's also set up to hold a hydration pack, so you can add a liquid reservoir and stay hydrated on the go.
Available colors: red, black, blue, and gray

11. Cotopaxi Luzon Day Pack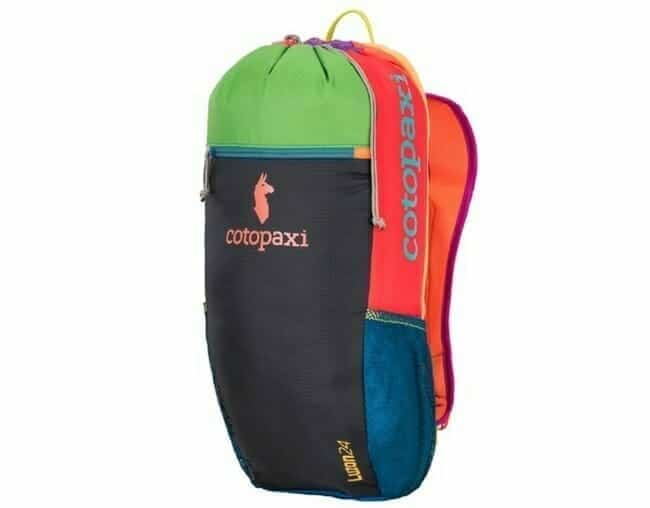 Every Cotopaxi Luzon day pack is one of a kind. Employees select the color combinations from reclaimed nylon fabric scraps. You can see Cotopaxi's tote bags in my post on recycled totes.
This ultra-lightweight pack has mesh shoulder straps, making this the perfect travel pack. When it's empty, it's easy to roll up and pack into your luggage or larger bag.
This versatile pack has a large main compartment with top drawstring closure. Plus, there's an internal zippered compartment, so you can keep dirty clothes or shoes separate from the rest of your gear. There are also two mesh water bottle sleeves for easy access to hydration. In addition, you get a smaller internal compartment with a clip for your keys.
See more recycled backpacks at REI.
12. Alchemy Goods Recycled Tire Inner Tubes Backpack
Alchemy Goods hand makes cool bags and accessories out of reclaimed bicycle inner tubes in their workshop in Seattle, Washington. To date, they've kept over 500,000 inner tubes out of the landfill. This practically waterproof backpack has two easy-access exterior zipper pockets and two inside pockets. Plus, it has a padded laptop sleeve that will easily hold a 15″ laptop. In addition, it has adjustable, padded shoulder straps.
All of Alchemy Goods' products come with limited lifetime warranty.
Measurements: 18" x 12" x 4.5"

13. Recycled Firefighter Backpacks
For a cool, rugged look, check out this backpack made with reclaimed authentic firefighter turnout gear. And just in case you think you'll get soot on you if you wear this pack, no worries – the material is cleaned.
These firefighter rucksacks have a wide opening and external pockets. Each bag is handmade and one-of-a-kind.
To see more cool items made from recycled firefighter gear, check out my posts on dog collars and wallets.

14. Terra Thread Sustainable, Organic Cotton Backpacks
Terra Thread is a socially conscious company that makes eco-friendly backpacks, duffels, and other bags with GOTS certified organic cotton canvas. Plus, all of their products are Fair Trade and, with each bag they sell, Terra Thread donates meals to people.
Here's video demo of one of their packs:
15. Dime Bags Pure Hemp Backpack
Dime Bags makes Earth-friendly bags with pure hemp. This hemp backpack has adjustable side straps and contoured shoulder straps to create a comfortable fit. It has four different compartments plus two holders for your reusable water bottles.
This sustainable backpack also comes with a removable pouch that doesn't release odors to hold secret things. You can also remove the Velcro label to be a little more incognito.
Available colors: black, brown, white, heather black, Kelly green, olive green, royal blue, turquoise blue, or hot pink
Measurements: 18" x 11" x 7"
To see more pure hemp bags from Dime Bags, check out my posts on messenger bags and handbags.

16. Dime Bags Mini Hemp Knapsack
If you're looking for a cute mini backpack, this pure hemp style from Dime Bags will fit the bill. It has adjustable side straps and contoured shoulder straps to get the perfect fit, plus a handy top handle.
There's an outside zipper pocket and an inner a secret pocket, plus internal organizers in the main compartment. And you can also remove the Velcro label to be more incognito.
Available colors: black, brown, heather black, olive green, turquoise blue, or hot pink
Measurements: 8" x 3" x 9"
To see more pure hemp accessories from Dime Bags, check out my posts on handbags and wallets.

17. Recycled Jute Rice Bag Backpack
This unique backpack is made with recycled jute rice bags. Each bag is handmade and one-of-a-kind. It has a top flap and is fully lined. There are three outside pockets that have button closures and adjustable straps. There's also a back loop on the pack, so you can hang it up.

18. Herdentier Backpack in Piñatex and Cork
Herdentier is based in Hannover, Germany, that makes backpacks and other bags in eco-friendly Piñatex pineapple leather and cork.

19. Piñatex Pineapple Leather Knapsacks by Maravillas Bags
Maravillas hand makes sustainable handbags in their workshop in Palma de Mallorca, Spain.
Maravillas has designed this stylish backpack with eco-friendly and sustainable Piñatex pineapple leather.
It measures 12.6" tall x 10.6" wide x 6.7" deep.
You can see more accessories and shoes made with pineapple leather in my post about Piñatex.
You can see purses by Maravillas in my post about handbags.

20. Corkor Cork Backpack
Corkor is an environmentally-conscious brand that makes a line of high-quality, stylish accessories from all-natural and sustainable cork. They make their backpacks by hand in Portugal.
The Corkor team are advocates for animal welfare and protecting the planet. I love this brand because they're truly breaking ground in the fashion and accessories world by showing that you don't need something to be made of animal skin to be sleek and high-quality.
To see more sustainable accessories from Corkor, check out my posts on belts and eco-friendly messenger bags.

21. Malandro Cork Backpacks
Malandro is another designer that makes stylish, eco-friendly backpacks with cork. Cork bark is a sustainable material that does not harm the tree when it's harvested. In fact, harvesting the cork enable the tree to absorb even more CO2 from the atmosphere. Cork forests are also home to a number of endangered species, so purchasing products made from cork helps to ensure that cork forests are not cut down.
Malandro offers cork backpacks in a variety of colors and patterns.

22. Leafling Cork Backpack
This cute backpack shows the world that you're a nature lover to the core. Leafling Bags makes their eco-friendly backpacks and accessories with with PETA Approved cork leather. Other colors are available.
Measurements: 8″ x 9″

23. Black Cork Backpack
This versatile and stylish black backpack is made with sustainable and natural cork. It's waterproof, so will protect your belongings on rainy days. The main compartment has snap closure, plus there's a front compartment with a zipper closure. And there are other pockets and sections to keep your things organized.
Measurements: 17" x 12.2" x 4.7"

For more great backpacks, check out my post on vegan backpacks.