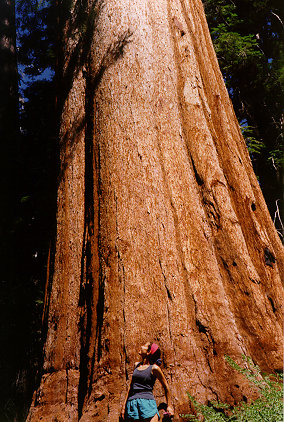 When I read Mark Zuckerberg and Priscilla Chan's letter to their new baby girl, Max, on December 1st, I was aware that I was reading it from my own viewpoint–a set of values developed partly by how I was raised and partly by the unique set of experiences that have made up my life.
This letter, about the hope that Max has given her new parents for the future, received over 1.5 million Likes and over 300,000 Shares on Facebook, in addition to being published by countless other media outlets.
The letter expressed Mark and Priscilla's augmented sense of purpose to make the world, which Max and her generation will inherit, a better place. And while I know it will take an unimaginable amount of work and collaboration, I am confident that this couple, one of the most powerful in the world, will put a serious dent in things like poverty, disease, and human inequality, as well as continuing to advance human potential with technology.
One of the first comments to the post that I read was from Melinda Gates, half of one of the other most powerful couples in the world. As of June 2015, the Bill and Melinda Gates Foundation have given over $34 billion in grants to help people all over the world lead healthier, more productive lives.
As I read Mark and Priscilla's letter to Max, I couldn't help wondering if the parents of both Mark Zuckerberg and Bill Gates, two of the greatest technology industrialists of our day, ever took them camping.
Aware of my own biases and values, I searched Mark and Priscilla's letter hoping to find some mention of some species other than Homo sapiens. Other than a bullet about harnessing clean energy to fuel innovation while protecting the environment, there was no nature, no wilderness, no other species to be found in this letter about making the world a better place.
I realize there is an infinite number of causes in the world. What resonates with one person may not resonate with someone else. I may be fighting to end animal cruelty, but my neighbor on one side is putting all of her energy into ending child trafficking, and the neighbor on the other side is trying to keep the arts in public schools, and the person across the street is trying to put an end to multiple sclerosis.
What worries me is when the most powerful and wealthy people in the world don't acknowledge that there is much more to life on Earth than people and technology. For sure, there are tech industrialists who have donated millions to environmental causes through their foundations; the Gordon and Betty Moore Foundation and the David and Lucile Packard Foundation are two of them. And I am impressed at the adoption rate that Bill and Melinda Gates and Warren Buffet have had with The Giving Pledge, in which the world's wealthiest individuals and families donate a large percentage of their wealth to charities.
It makes sense that humanitarian causes get the lion's share of support from humans. What concerns me is that the human race has shown itself to be amazingly resilient; while, tragically, countless other species we share this planet with have not. Due to human activity, other species of life are dying off at an alarming rate and natural habitats are being decimated. We will lose them permanently unless we collectively take more serious action now. It's great to be a good humanitarian, but let's not be speciesist at the same time.
According to the Center for Biological Diversity: "Our planet is now in the midst of its sixth mass extinction of plants and animals–the sixth wave of extinctions in the past half-billion years. We're currently experiencing the worst spate of species die-offs since the loss of the dinosaurs 65 million years ago. Although extinction is a natural phenomenon, it occurs at a natural 'background' rate of about one to five species per year. Scientists estimate we're now losing species at 1,000- to 10,000-times the background rate, with literally dozens (of species) going extinct every day."
Social Media – One of the Saving Graces of Our Day
But don't get me wrong. I am eternally grateful for the inventors and dedicated teams of people who've developed computers, the Internet, and social media. I can't imagine my life without them.
I credit social media with the increased awareness of the perils facing our planet and with the rapid acceleration of people adopting plant-based eating habits. Last year, 6% of people said they are vegan, compared to just 2% in 2011. (LatestVeganNews.com) And this number seems to be increasing even faster among millennials.
Social media has been nothing short of a blessing to reduce animal cruelty and suffering. As Paul McCartney said, "If slaughterhouses had glass walls, everyone would be a vegetarian." Thanks to social media entrepreneurs, like Mark Zuckerberg, their hardworking teams, and animal rights activists, the slaughterhouses suddenly do have glass walls, and everyday people do not like what they see.
But the work ethic that created the social media revolution has caused a new kind of suffering–something I experienced myself and which I can't help thinking Mark and Priscilla and office workers around the world may be suffering from too: nature deficit disorder.
We are not taking enough time to get outside, take a walk, make sure we bring kids with us, and listen to what nature sounds like in the absence of human noise, maybe dip our bare feet in a cold river. It's too easy to get caught up in our human world and forget about all the other life on our planet, which urgently needs our protection. And it isn't just a charity case–it is an awe-inspiring and miraculously diverse world that you don't want to miss, and certainly, you don't want your kids to miss.
I will trust that when Mark and Priscilla say they want their daughter to "explore life fully" it means not only human interactions and human inventions, but the full scale of amazingly diverse life that exists on our planet–and which is dangerously at risk of dying. As the most powerful species on this planet, it's our job to use our inventiveness to nurture and protect it.
"The happiness of the bee and the dolphin is to exist. For man it is to know that and to wonder at it."—Jacques Cousteau
Here are 10 things that made me care about the Earth and other species:
1. Having pets growing up
I grew up with a lot of pets. One such pet was a black cat named J.B., short for "Jet Bomber." Don't ask me why we allowed my younger brother, Patrick, to name him. But I must say, except for another black cat I once met named Johnny Cash, I think the name Jet Bomber for a jet black cat is one of the coolest I've ever heard.
We also had a guinea pig who was renamed by Patrick as "Paul." The guinea pig was renamed Paul because when we moved from Houston, Texas to Pelham, New York, our neighbors, a big, gracious, loving, fighting, emotional Italian family, thought it was hilarious that our pet guinea pig was actually named "Guinea." While it made perfect sense to us to have a guinea pig named "Guinea," The Marinos notified us that "guinea" was a derogatory name for Italians. Dr. Marino told us that now that we lived in New York, we ought to change that guinea pig's name.
The thing is, J.B. and Paul, and our many other pets, were my friends–or, more accurately, they were my siblings. They were members of the family. They were one of us. I grew up knowing and feeling that all animals–are one of us.
2. Playing outside – in the dirt, in the rain, in the mud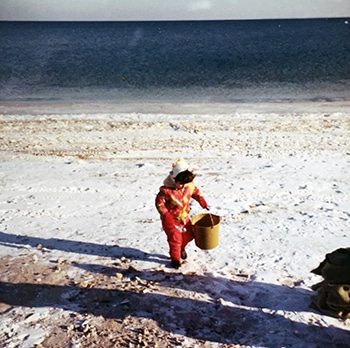 Perhaps it was because my mom simply wanted us out of the house, but we were strongly encouraged to play outside at every opportunity. It didn't matter if it was 20-degrees out or if it was raining. We played kickball in the mud and the rain, and we threw mud at each other. I probably even ingested mud, as well as bugs that were in that mud, and here I am alive today, writing this post.
3. Gardening with my mom
My mom was not a major gardener when we were young, but she did love to put flowers in the ground. This is one of my earliest childhood memories. I was three or four, and as my mom planted flowers outside our house, I sat in the dirt nearby, playing with doodlebugs. It wasn't the size of the garden that mattered. It was that I was outside in the sunshine with someone who loved me, and I understood that I was a key participant in the creation of something important.
4. Camping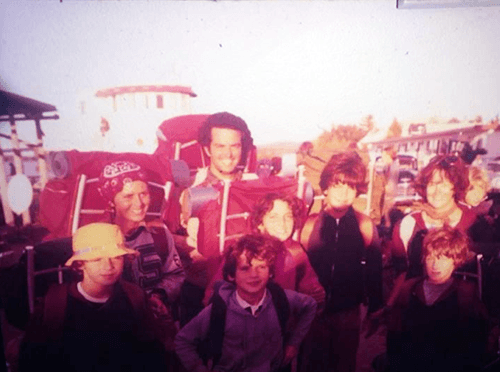 My parents didn't have any money when we were growing up, so family trips were road trips in our old brown Buick station wagon. One trip we took was to Big Bend National Park, near the Texas-Mexico border. My parents also took us to a lot of drive-in movies when we were kids. We loved it because we were allowed to get on the roof of the Buick in our sleeping bags to watch the movies. For road trips, we had a vinyl, metal-framed car top carrier that zipped open on one side. Naturally on this camping trip, my two brothers and I thought the car top carrier would be a perfect place to sleep. The three of us actually crammed into the thing in our sleeping bags. We probably would have suffocated if my dad had zipped it closed. He didn't. And I remember looking out the opening and seeing more stars in the sky than I ever could have imagined existed.
5. Summer camp that advocates leadership and wilderness training
My more serious camping and backpacking skills were earned at summer camp in Colorado. I know now that it was a gift that my dad valued independence and experiences, and thus sent us to summer camp in the Rockies. Two-week backpacking trips tested my stamina and my character. On one trip, we had to evacuate in the middle of the night because of a flash Rocky Mountain storm. Our counselors feared we had camped a little too close to timberline and that we'd be struck by lightning if we didn't move to a lower elevation. In order to keep our gear dry and to get down the mountain as quickly as possible, we kept everything in our tents except for our boots and slickers. In the freezing rain, in our underwear, hiking boots, and slickers, we carried our tents down the mountain in teams. As a girl, this was insanely difficult and scary, and some tears were definitely shed. But when we got to a lower camp and back in our tents, and on the trail the whole next day, we couldn't stop laughing.
6. A NOLS course
I pretty much hated high school. I won't go into the details here, but I hated high school for the same reasons that a lot of kids hate high school–bullying and boredom. Because I hated high school, I didn't want to go to college. I was completely uninterested. I wanted to travel and see the world and figure it out on my own. When my friend Brooke told me about a National Outdoor Leadership School (NOLS) course she was going to take, I was intrigued. I think it was partly due to panic on my parents' part over that fact that I didn't want to go to college, but they fully supported my taking the Semester in Kenya course with NOLS. This was one of those critical times in a person's life when you find yourself at a crossroads, possibly without even realizing it, and you can go one way or the other, and whichever path you take will put you on a trajectory that will impact the rest of your life.
The semester in Kenya changed my life for the better. For three months, we lived in tents. We started on Mt. Kenya, and then went on to the Maasai Mara, then the Indian Ocean, and then the Great Rift Valley. I remember hiking into farmlands at the base of Mt. Kenya, in small groups of four, after spending an entire month on the mountain. We were filthy, tired, and ebullient at what we had accomplished. We had reached the summit of Mt. Kenya and had run into Cape buffalo, leopards, Colubus monkeys, and other wildlife in the mountain's diverse climate zones. As we hiked through coffee fields, a thin Kenyan woman from one of the farms walked up to us with a big smile. She was carrying something in a small scarf. It was burned potatoes, which she offered to us. It was the best potato I ever tasted. Living in the wilderness made me appreciate humanity in a way I never had before.
7. Supporting a charity that gets at-risk youth into the great outdoors
I know now more than ever how fortunate I was to have the experiences I did growing up, even something as seemingly simple as having a backyard to play in. Far too many children do not have the opportunities that I did. This is one of the reasons I raised money for a program called Climbing for Kids, which is part of Bay Area Wilderness Training, a project of Earth Island Institute. Climbing for Kids raises money to get at-risk youth into the great outdoors. Growing up with access to nature made me a better person, and it's been proven to help countless others.
A study by the American Institutes for Research found that students who get outdoor science courses improve their science testing scores by 27%. In addition, their participation in outdoor education was directly associated with improved conflict resolution and cooperation skills.
In another study, at-risk teenagers who graduated from wilderness therapy programs showed significantly greater use of "adaptive emotion regulation strategies" and significantly less reliance on poor coping skills, such as avoidance and suppressing their emotions. In addition, at the beginning of wilderness training programs,
62% of teens showed moderate to severe disruptive behavior problems, compared to only 11% at graduation.
23% reported moderate to severe anxiety or depression when they started the program, compared to only 5% at discharge.
In short, getting kids into nature is critically important because it gives them better life coping skills.
8. A liberal arts education with courses in science
If I had been better at math and chemistry, I would have been a marine biologist. Instead, I took the liberal arts track, majoring in English and geography. Today, I am grateful that I got a liberal arts education because it taught me how to think creatively and see the world as diverse, yet interconnected. In graduate business school, I noticed I approached problems differently than the  students whose undergrads were in engineering did. And while there is not a day that goes by where I don't wish I knew how to code like a pro instead of like an anemic hack, my geography degree in environmental studies and my English degree gave me skills in how I view the world and share my perceptions of it.
9. SCUBA diving
Another invaluable gift from my parents was swimming and SCUBA diving. My mom had a near-death drowning experience as a kid, and because of this, she had my brothers and I bobbing up and down in the pool at the Y as infants. She didn't want us to fear the water as she did, so we learned to swim before we could walk.
My dad is a lifelong SCUBA diver. As a teen, he traveled on his own from his home in West Virginia to the Bahamas just so he could dive. He has a rule that any kid, stepkid, or grandkid who shows an interest in SCUBA diving will get certified on his dime. SCUBA diving has showed me there is a great big world down there –a Technicolor, peaceful, and amazing world in the ocean's depths. It's always good to look beyond the surface, because magical things are there.
10. Media that celebrates nature and wildlife
If you can't get into real nature enough, thankfully today, there are ways to get a temporary fix on your screen. Let's face it, there is a ton of junk media out there, and we often pay attention to it without consciously realizing we are. I am getting better at changing the channel or clicking away. The more I infuse my life with books, documentary films, and other media about conservation, outdoor adventures, and animals, the happier I am and the more conscious I become.
When I look back, I know I have been extremely privileged to have experienced nature and animals in the way that I have. I don't want that access to be a privilege. I view it as fundamental human right in the same way that Mark and Priscilla see access to education, healthcare, and the Internet to be fundamental human rights.
It's hard to value what we don't know. Time to take a walk outside.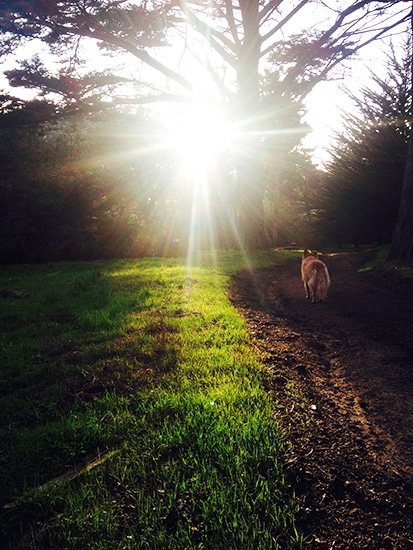 Save
Save
Save
Save
Save
Save
Save
Save
Save
Save
Save
Save
Save
Save
Save
Save
Save