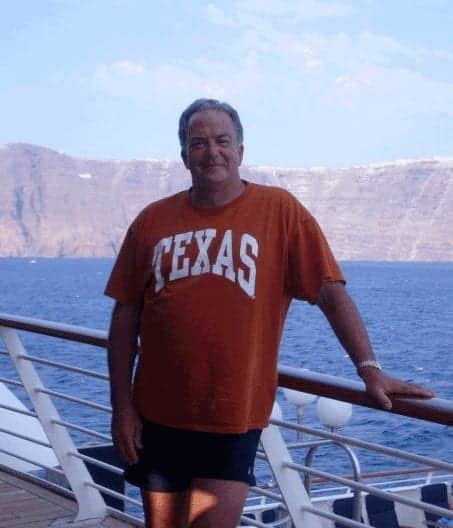 Big Ed from Texas is UniGuide founder Kristen's dad, Eddie, who hails from Houston, Texas. We challenge you to find a people more welcoming and generous group of folks than those who hail from the Lone Star State. And if you know Texans, you know they do like their meat: steak fajitas and chicken-fried steak, barbecued beef brisket and Texas chili (aka a super spicy beef stew with some kidney beans thrown in and queso to top it off.)
In addition to being from Texas, Eddie is a foodie and a gifted chef. As UniGuide is a site that promotes a vegan lifestyle, Kristen thought, Wouldn't it be interesting if I asked my dad, Big Ed from Texas, the carnivore, to share some of his own best meat-free recipes and also some of his favorite vegan recipes from other chefs? After all, any vegan dish that can make a Texas carnivore drool is worth sharing with the world. The way we see it, the more you fill people up with good veggie food, the less meat they'll eat!
A Note from Big Ed:
When Kristen asked if I would be willing to share my favorite meat-free recipes on UniGuide, I thought she was kidding me. After all, I once owned a 26-restaurant barbeque chain, Luther's Barbeque, with some partners. Plus, I'm very proud that a fellow Texan, Randy Franklin, won the James Beard Award as The Best Chef-Southwest for the amazing dishes he serves up at Franklin Barbeque in Austin, many of which, of course, are meat.
But then I thought, wait a minute, I live in Houston, the most diverse city in the United States, whose populous spends more of their disposable income eating out than any other city's.  A bunch of that expenditure is mine. My wife, Diane, and I eat out a lot—sushi, Indian, seafood, Italian, steaks, French, Scandinavian and, yes, vegetarian.  Furthermore, I love to cook and devour cooking magazines and television cooking shows.
As a cuisine adventurer, I have experienced first-hand that plants can take center stage, and even the whole stage, in a great meal, rather than being relegated to the sidelines on your plate. So with that, whether you're an herbivore, a carnivore, or an omnivore like I am, please enjoy some of my favorite meat-free recipes.